Bpanda Connector: Importing Risks Using Controls
The Connector has been around for a while now, allowing you to connect our two tools, Bpanda and Innovator, to transfer processes, process maps and organizational structures from one tool to the other. Our September 28 release brings with it the option of now also transferring defined risks (including controls) to accompany the import of processes from Innovator to Bpanda. However, the risk matrix (e.g. 6×6 matrix) needs to be the same for both Bpanda and Innovator. Once the process has been successfully imported to Bpanda, then the risk analyses which have also been transferred can be seen in the "Overview" tab with the "In progress" status. The process first needs to be published before the risk manager or BPM manager can publish them. All users can then see the process, including the imported risks and controls.
Import of risk analyses defined in Bpanda to Innovator is not yet possible. We recommend that you define a master tool for your risk management. Either start your risk analysis in Innovator and then continue working on it in Bpanda or complete it fully in Innovator and then make it available to all users in Bpanda in its finished state. Which ever option you choose, you will need the current Connector version from our MID customer area.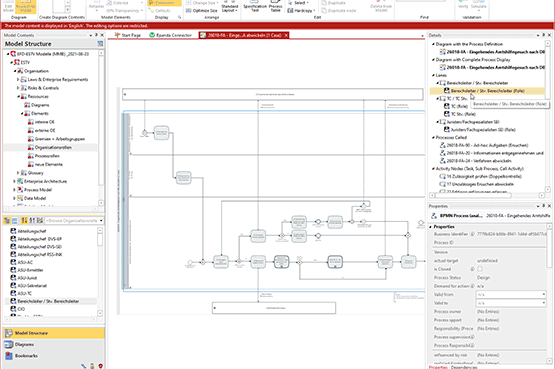 Bpanda Connector: Importing Organizational Roles
We're sure you already know about the organizational roles that are now available alongside organizational units in Bpanda. Well, now it is also possible to import these as well when importing from Innovator to Bpanda using the Connector. Organizational roles are imported alongside the organizational structures they are linked to.
Watch Out: If you import the organizational structures, then we recommend that you always replace the entire organizational structure upon import. This ensures that all new links in Bpanda are also adopted. The imported organizational roles are then added to the "Organizational Roles" tab in the organizational structure area in Bpanda, including all existing info. If the organizational roles are already linked with processes and risk analyses which also exist in Bpanda, then these are also obviously automatically linked to the lanes of the applicable processes or, e.g. as owners for a risk or control.
Links in Description Texts: Icon in Process Full Screen and Lists
If links exist in description texts in Bpanda, then the BPM manager can decide whether these links should also be marked with the attachment icon. You can make this setting under "Manage Process Space" in the "Individualize" tab. Activate the function so that the icon is shown for all links in both the process full screen and list display of processes. This will create the necessary transparency for all Bpanda users, so that they can recognize links more easily. Links are particularly easy to recognize when in full screen mode. Give it a go directly in your Bpanda process space!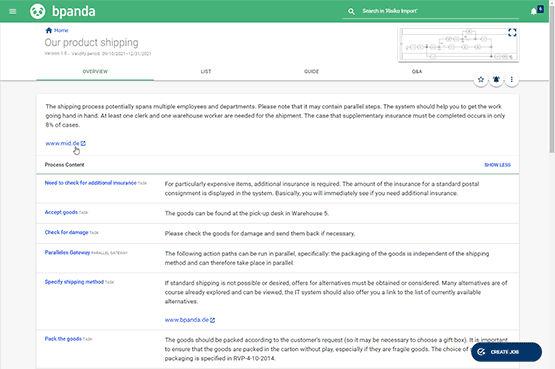 Attachments: Improved Display in Bpanda
Attachments were previously depicted in a fairly large size in Bpanda. Our developers have tackled this head on and optimized display. Attachments have been slimmed down to a nice, tidy and cell-friendly list. You can already see this in the process in the "Lists" tab, where you can manage attachments using the new + icon. You can use this for adding, editing and deleting attachments. Don't worry, nothing else has changed. All we have done is improved the look. All users can see attachments and download them. Process managers and BPM managers are responsible for management.
As well as process lists, you can now also profit from the new display of attachments in process full screen mode. The menu has a new filter option, allowing you to display the icons for attachments in process full screen mode. The other filter options can also now be combined with each other. Take a look and feel free to give us some feedback about how you like the new display.