be informed – Easily Find and Understand Processes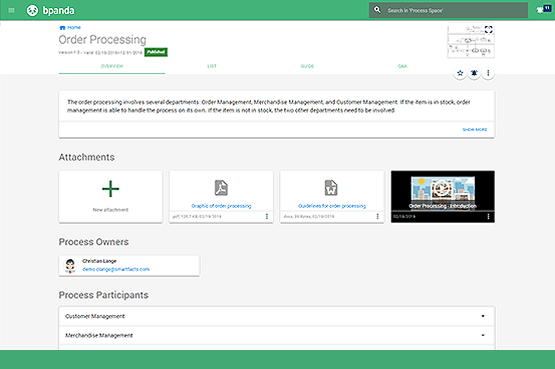 Process Overview
The process overview is the first thing you see upon accessing the process page. It contains the most important information about the process. This information is clearly set out in text form. As a process user with no previous modeling knowledge, you will still be able to understand the process. You can see the process description as well as the attachments added. You can also get an overview of who the process owner and participants are so that you can tell who is participating in the process and who is responsible for it. This concise information gives you a glimpse into the aspects of the process relevant to you.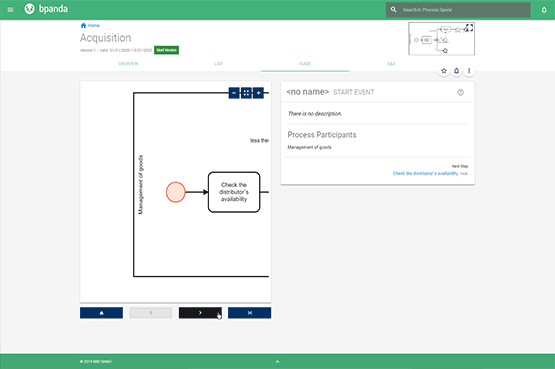 Guide
The guide takes the process user through the process diagram step-by-step. You can view the process and there is also relevant information in text form about the individual process steps. The guide navigation enables both linear progression of individual process steps and decisions can also be cycled. This gives you a glimpse into your company's process flows without needing any previous knowledge of Business Process Model and Notation (BPMN). This is the perfect place to start if you want to quickly read and understand processes.
be creative – Model and Expand Processes Yourself
Textual Process Description
Textual process description is the simplest way to document your process flow whilst taking the first step towards a process-oriented company. It is perfect for simple, less complicated processes and modeling novices with no previous BPMN knowledge. Thanks to its pragmatic approach, it means that anyone in the company can get started straight away and create their process steps on their own. This means that the company's processes are clear and traceable, even throughout various different departments.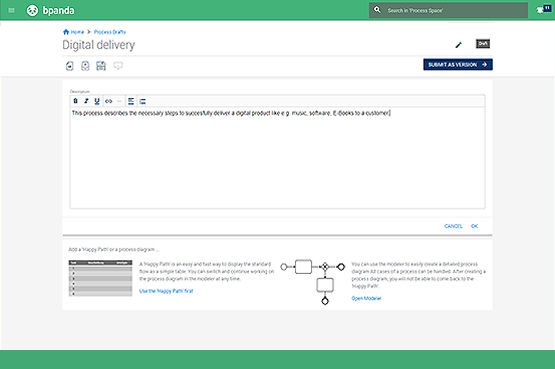 Happy Path Editor
Using the happy path editor to create processes is more than simply typing a description of the process; it enables documentation of BPMN-compliant processes. It is automatically created by entering information into a table editor. Regardless of whether you're a first-time user or occasional modeler, you can benefit from the easy-to-use happy path editor. You can use the editor to create your own process models, without the need for training expenses or previous knowledge. The editor can reduce the workload of even a modeling expert. Perfect processes that have been created quickly and easily using the happy path can then be extended and more detail added to them in the Modeler. This allows you to be flexible and ensures smooth operation.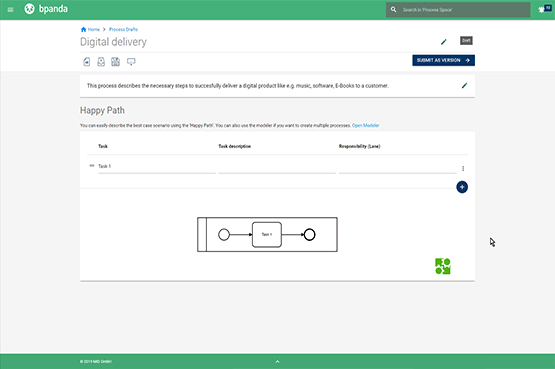 Modeler
As a modeling expert, you can use the integrated Modeler for easily creating more complex processes, using the fundamental notation elements of Business Process Model and Notation (BPMN). You can use all elements you are already familiar with, such as events, conditions and decisions. This enables you to easily model alternative process steps. You can also use the Modeler to quickly and easily make changes to processes or extend them. It can also be used on mobile devices so you can document your company's processes anytime and anywhere.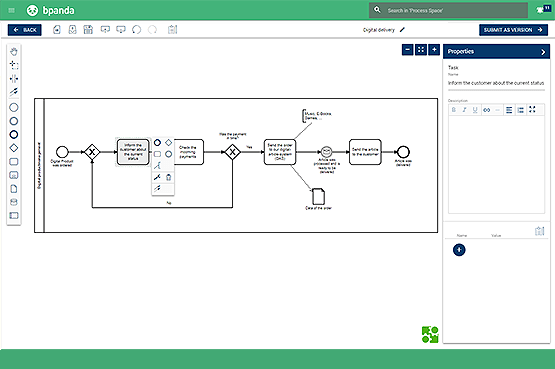 be connected – Develop and Evaluate Processes Together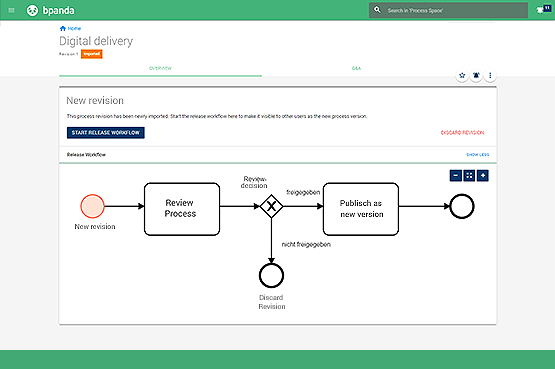 Release Workflow
Processes are not necessarily applicable. This means that it is worthwhile discussing them to make them better. Processes in Bpanda have to go through a release workflow before they can be published. This workflow can be tailored to suit the customer's needs. You can discard the entire release process for a process version if e.g. the version has become obsolete. The process owner can start the release process for an imported or submitted process version. They can also control process reviews before they are published for the whole company to view. This ensures that published processes meet the necessary quality requirements and that their content is correct. Release workflows are essential for companies who wish to implement regulatory specifications in their operative day-to-day business.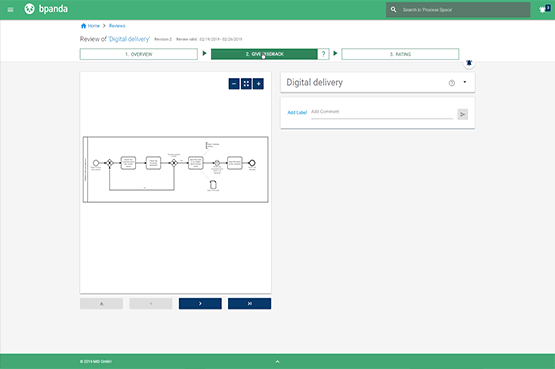 Review
A review is a basic part of the release workflow for new process versions. As process owner, you can specify review participants to give their expert opinions about the process. It is their job to assess the process and its content and give you feedback in the form of a comment. You can use the process to add comments and hold a discussion between multiple participants. A review provides a release recommendation for the process version. This promotes cross-team collaboration and all sources of knowledge from those involved in the process can be brought together to document your company's workflows.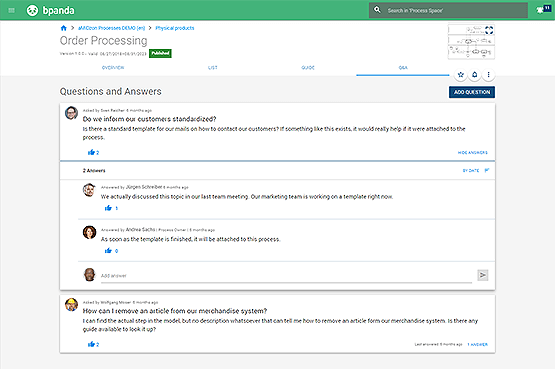 Q&A
You can ask any questions you may have about a process in the Q&A section. You can also find answers to questions other people have already asked about the process here. Knowledge about the process is pooled in one location in the form of questions and answers and can be viewed by all users with access to the process. Sharing the knowledge from within the company takes the load off the process owners and allows the process participants themselves to answer any questions that may arise. This keeps extensive research efforts to a minimum. All members of the company participating in the process will be motivated to share their knowledge and experience with their colleagues throughout the different departments.
be efficient – Optimize Processes and Put them into Practice
Job Wizard
Use Jobs to work through your processes in real time to establish an active and integrated process management within your company. Treat a Job as a human workflow. Unlike an automated process, Jobs provides optimum support to all those involved in the process when carrying out the work steps they have been assigned. This means that no step will be forgotten and all will be comprehensively documented. You can create one or more Jobs for each process which is currently valid and has been released. Use the Job Wizard to help you create a job; you only need a clear title to get started and a deadline is not a bad idea at this stage either. The deadline will give everyone involved in the process an overview and ensure that time-critical jobs are completed in time.
Activity Stream
All those involved in a process can open each job. This means you can always access the current process status in real time. You can use the activity stream to easily trace what activities have already been carried out, e.g. who started/closed which task. Anyone can ask questions directly at the activity stream so that communication is kept to one area and not spread out over various channels. This kind of precise form of logging similar to chat forums allows all those involved in a process to collaborate and communicate smoothly. This is especially great for processes which are carried out across various departments. Once a step is completed, the Job is then passed on to the next person in charge, ensuring that the process can continue right the way through to its completion.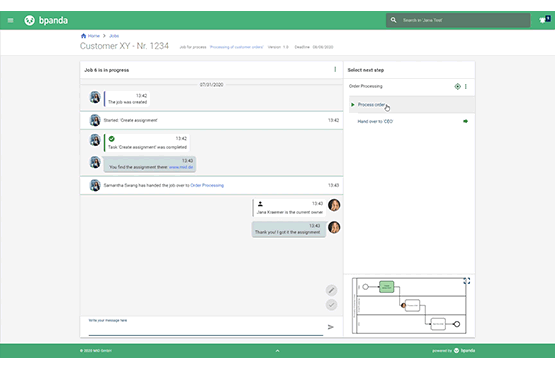 Analytics Jobs Dashboard
Each Job is a reliable source of important data about your current processes. You can view all this information in the form of analytics in the Dashboard. Various lists, figures and graphics are shown for each process, giving you a compact insight into which Jobs and how many are currently running, those which have been completed within/after their deadline and those which have been aborted. You can use the actual process times for Jobs to determine whether your process flows are running smoothly. This is particularly advantageous for regularly recurring processes. Transparency of your running processes allows you to get a realistic picture of your process management. This means you can better identify your weak spots and fix them. Job analytics is both objective and the ideal basis for continuously improving your processes.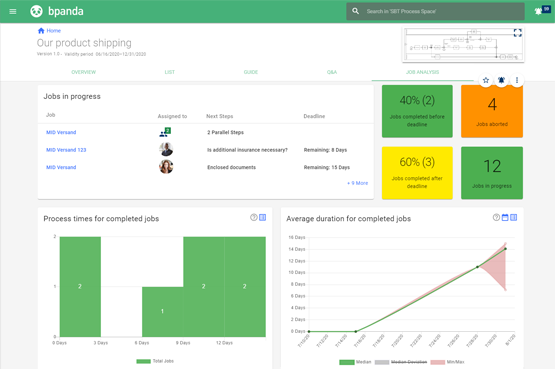 Numerous Additional Features

Tasks
You are assigned a task as soon as someone asks you to perform an activity in Bpanda (e.g. review, job, process validity). You will see this directly on your start page and in the Tasks dashboard.

Notifications
Notifications keep you informed about your processes and tasks in Bpanda. Notifications and e-mails always keep you up-to-date with new changes that are relevant to you.

Accessibility for Visually Impaired Users
Bpanda uses high contrast fonts and colored labels. It can also be used in a black and white high contrast color scheme and can easily be scaled to 400%.

Customize Bpanda
Customize Bpanda to suit your CI specs using your own Hex, RGB or HSL values and logo. Decide which BPMN elements should be used, how big tasks can be and whether attachments should be marked with icons, to name but a few.

Multiple Languages
Bpanda is available in many languages. Each user can select their own system and content language. Process designers can also translate processes into various languages using the translation dialog.

Process Map
The process map is used as a graphical entry point into the process landscape. It gives you an overview of which processes are running in the company and can also be used as a navigation help.

Process Versions
All changes made to a process are stored as different revisions. This ensures process traceability of both the current status and also the version history for both the process owner and participants.

Search
You can use the search feature to quickly and easily search the process space. The search already starts suggesting search words as soon as you start typing. You can also filter the results.
Our references: Here is just a selection of many customers who put their trust in Bpanda.