be informed – Easily Find and Understand Processes
Process Map
The process map is used as a graphical entry point into the process landscape. You can use it to create a structured and central map of all your processes and make it available to everyone in the company. It is easy to tailor the process map to suit your company; your process map is just as unique and individual as your company's structure. You can use the process map to link your processes and different areas within your company. You can click on the various areas and levels, making it easy for all Bpanda users to navigate through the process map. Find out how to structure your own map here.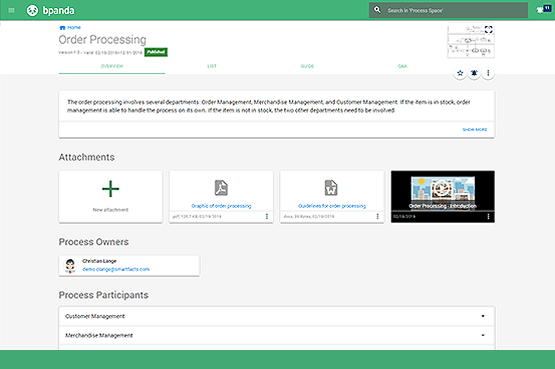 Process Overview
The process overview is the first thing you see upon accessing the process page. It contains the most important information about the process. This information is clearly set out in text form. As a process user with no previous modeling knowledge, you will still be able to understand the process. You can see the process description as well as the attachments added. You can also get an overview of who the process owner and participants are so that you can tell who is participating in the process and who is responsible for it. This concise information gives you a glimpse into the aspects of the process relevant to you.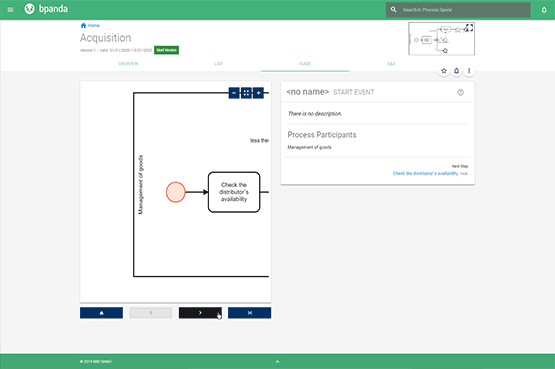 Guide
The guide takes the process user through the process diagram step-by-step. You can view the process and there is also relevant information in text form about the individual process steps. The guide navigation enables both linear progression of individual process steps and decisions can also be cycled. This gives you a glimpse into your company's process flows without needing any previous knowledge of Business Process Model and Notation (BPMN). This is the perfect place to start if you want to quickly read and understand processes.
be creative – Model and Expand Processes Yourself
Textual Process Description
Textual process description is the simplest way to document your process flow whilst taking the first step towards a process-oriented company. It is perfect for simple, less complicated processes and modeling novices with no previous BPMN knowledge. Thanks to its pragmatic approach, it means that anyone in the company can get started straight away and create their process steps on their own. This means that the company's processes are clear and traceable, even throughout various different departments.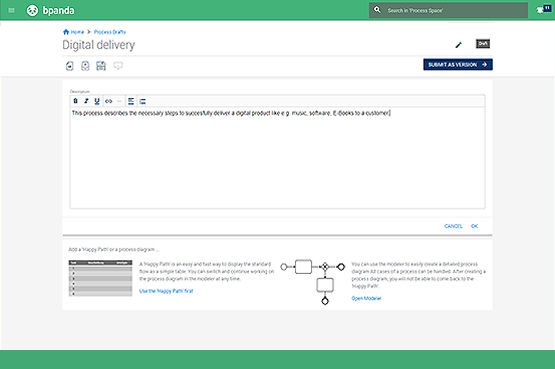 Happy Path Editor
Using the happy path editor to create processes is more than simply typing a description of the process; it enables documentation of BPMN-compliant processes. It is automatically created by entering information into a table editor. Regardless of whether you're a first-time user or occasional modeler, you can benefit from the easy-to-use happy path editor. You can use the editor to create your own process models, without the need for training expenses or previous knowledge. The editor can reduce the workload of even a modeling expert. Perfect processes that have been created quickly and easily using the happy path can then be extended and more detail added to them in the Modeler. This allows you to be flexible and ensures smooth operation.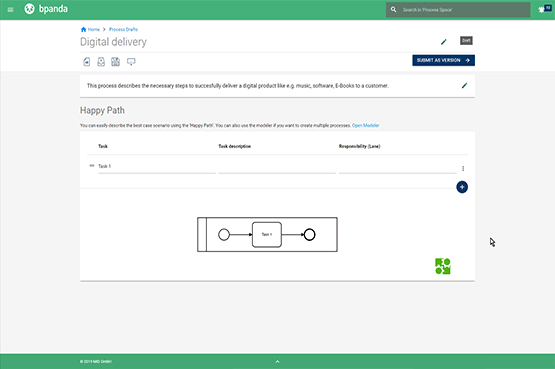 Modeler
As a modeling expert, you can use the integrated Modeler for easily creating more complex processes, using the fundamental notation elements of Business Process Model and Notation (BPMN). You can use all elements you are already familiar with, such as events, conditions and decisions. This enables you to easily model alternative process steps. You can also use the Modeler to quickly and easily make changes to processes or extend them. It can also be used on mobile devices so you can document your company's processes anytime and anywhere.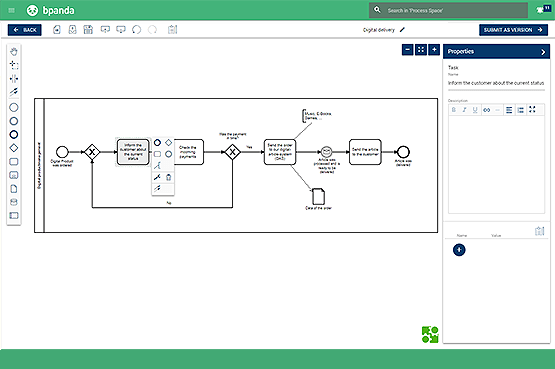 be connected – Develop and Evaluate Processes Together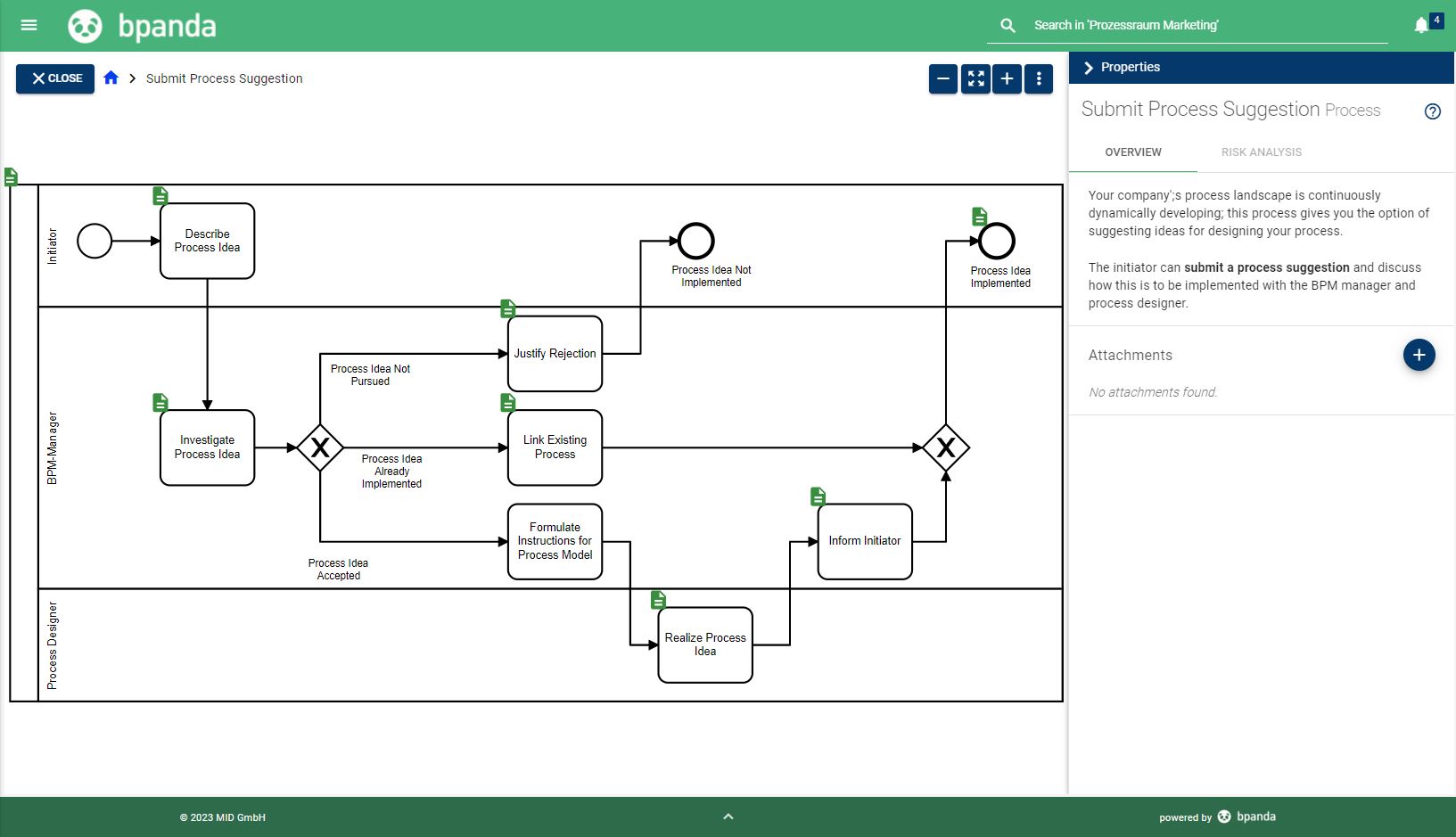 Submit Process Suggestion
We have provided you with the 'Submit Process Suggestion' process so that you can involve all your colleagues when creating your process landscape. Every user can easily add their own ideas and become initiator when it comes to new processes or processes which haven't been documented in Bpanda yet. The BPM manager receives this suggestion, explores the idea and documents their rating within the process. This allows the initiator to see directly in Bpanda whether the process will be included within the documentation, whether the process is already documented or whether their suggestion has been rejected. You can use 'Submit Process Suggestion' to complete your process map little-by-little and bring collaborative process creation alive within your company.
Download Process Now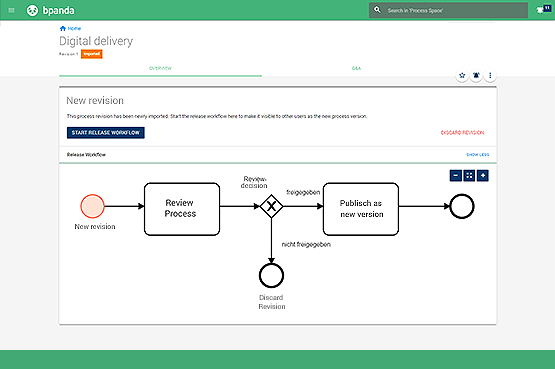 Release Workflow
Processes are not necessarily applicable. This means that it is worthwhile discussing them to make them better. Processes in Bpanda have to go through a release workflow before they can be published. This workflow can be tailored to suit the customer's needs. You can discard the entire release process for a process version if e.g. the version has become obsolete. The process owner can start the release process for an imported or submitted process version. They can also control process reviews before they are published for the whole company to view. This ensures that published processes meet the necessary quality requirements and that their content is correct. Release workflows are essential for companies who wish to implement regulatory specifications in their operative day-to-day business.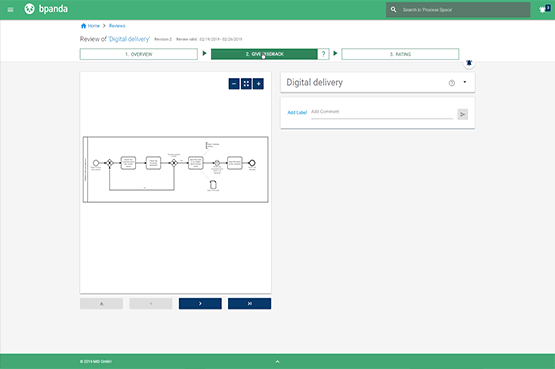 Review
A review is a basic part of the release workflow for new process versions. As process owner, you can specify review participants to give their expert opinions about the process. It is their job to assess the process and its content and give you feedback in the form of a comment. You can use the process to add comments and hold a discussion between multiple participants. A review provides a release recommendation for the process version. This promotes cross-team collaboration and all sources of knowledge from those involved in the process can be brought together to document your company's workflows.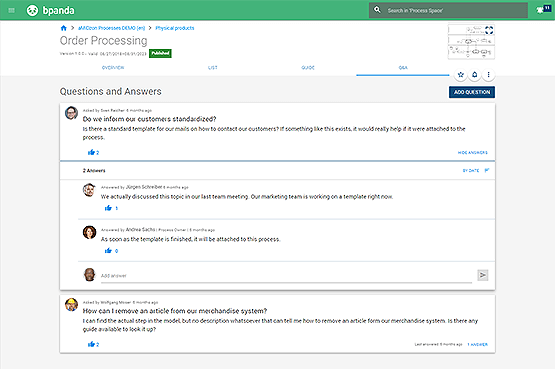 Q&A
You can ask any questions you may have about a process in the Q&A section. You can also find answers to questions other people have already asked about the process here. Knowledge about the process is pooled in one location in the form of questions and answers and can be viewed by all users with access to the process. Sharing the knowledge from within the company takes the load off the process owners and allows the process participants themselves to answer any questions that may arise. This keeps extensive research efforts to a minimum. All members of the company participating in the process will be motivated to share their knowledge and experience with their colleagues throughout the different departments.
be efficient – Optimize Processes and Put them into Practice
Job Wizard
Use Jobs to work through your processes in real time to establish an active and integrated process management within your company. Treat a Job as a human workflow. Unlike an automated process, Jobs provides optimum support to all those involved in the process when carrying out the work steps they have been assigned. This means that no step will be forgotten and all will be comprehensively documented. You can create one or more Jobs for each process which is currently valid and has been released. Use the Job Wizard to help you create a job; you only need a clear title to get started and a deadline is not a bad idea at this stage either. The deadline will give everyone involved in the process an overview and ensure that time-critical jobs are completed in time.
Activity Stream
All those involved in a process can open each job. This means you can always access the current process status in real time. You can use the activity stream to easily trace what activities have already been carried out, e.g. who started/closed which task. Anyone can ask questions directly at the activity stream so that communication is kept to one area and not spread out over various channels. This kind of precise form of logging similar to chat forums allows all those involved in a process to collaborate and communicate smoothly. This is especially great for processes which are carried out across various departments. Once a step is completed, the Job is then passed on to the next person in charge, ensuring that the process can continue right the way through to its completion.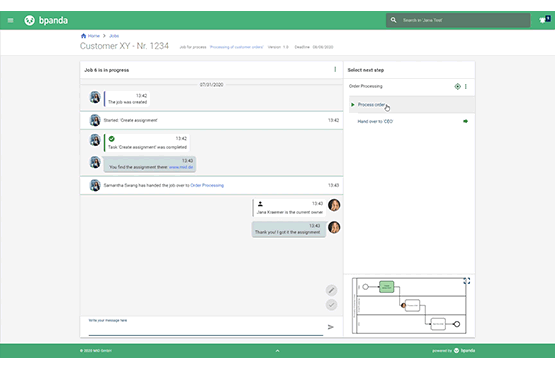 Analytics Jobs Dashboard
Each Job is a reliable source of important data about your current processes. You can view all this information in the form of analytics in the Dashboard. Various lists, figures and graphics are shown for each process, giving you a compact insight into which Jobs and how many are currently running, those which have been completed within/after their deadline and those which have been aborted. You can use the actual process times for Jobs to determine whether your process flows are running smoothly. This is particularly advantageous for regularly recurring processes. Transparency of your running processes allows you to get a realistic picture of your process management. This means you can better identify your weak spots and fix them. Job analytics is both objective and the ideal basis for continuously improving your processes.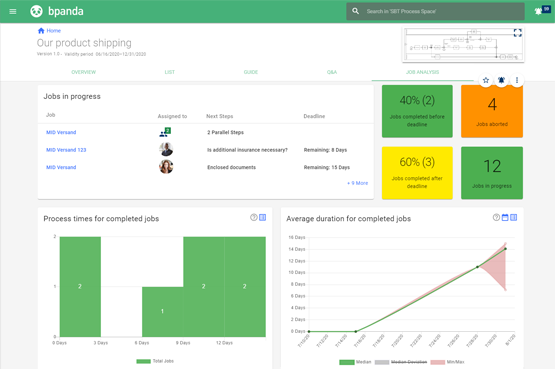 be aligned – Manage Your Applications Easily and in One Central Location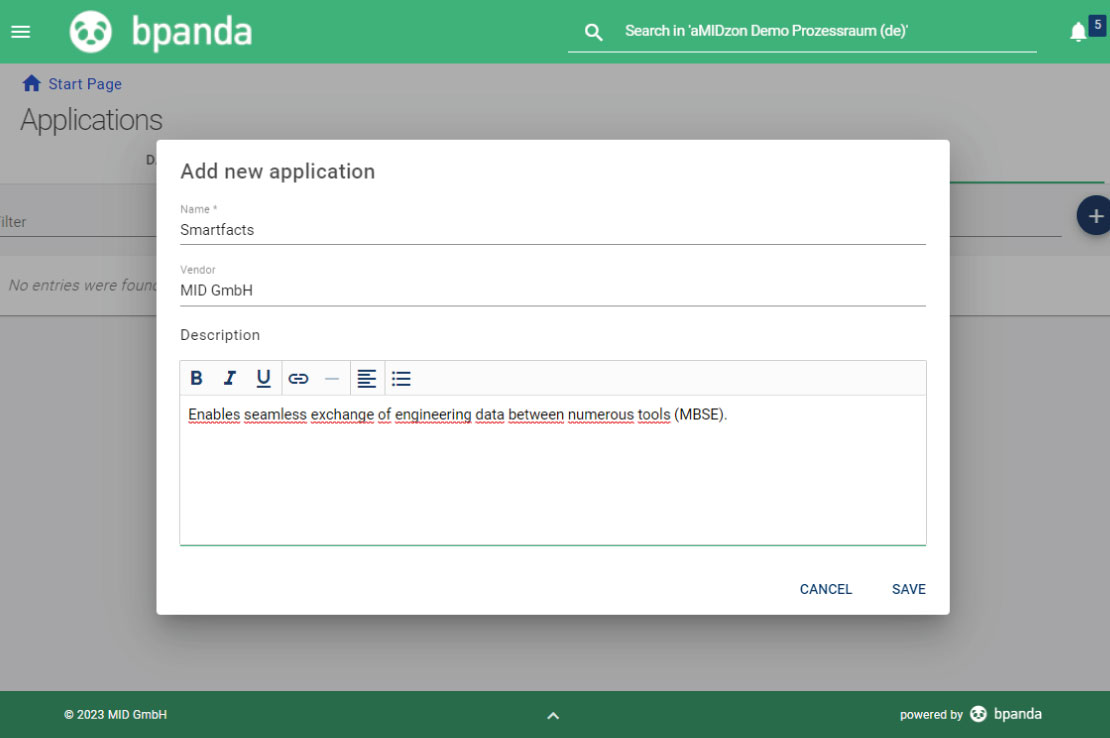 Easy to Create and Maintain Applications
Use Bpanda to easily manage your company's entire application landscape in one place. An application can be e.g. software you need for running your process step, such as Microsoft Excel or MID's Innovator. Create your applications in just a few clicks, make a note of handy product information such as application names and manufacturer and add a brief description text. Bpanda also has the role of application owner. They are directly linked to the applications they are responsible for so that they can easily maintain them. This role makes it easy for all Bpanda users to quickly see who is responsible for the application and its maintenance. You only need to create each application once in Bpanda and can then add it to all your processes or process elements.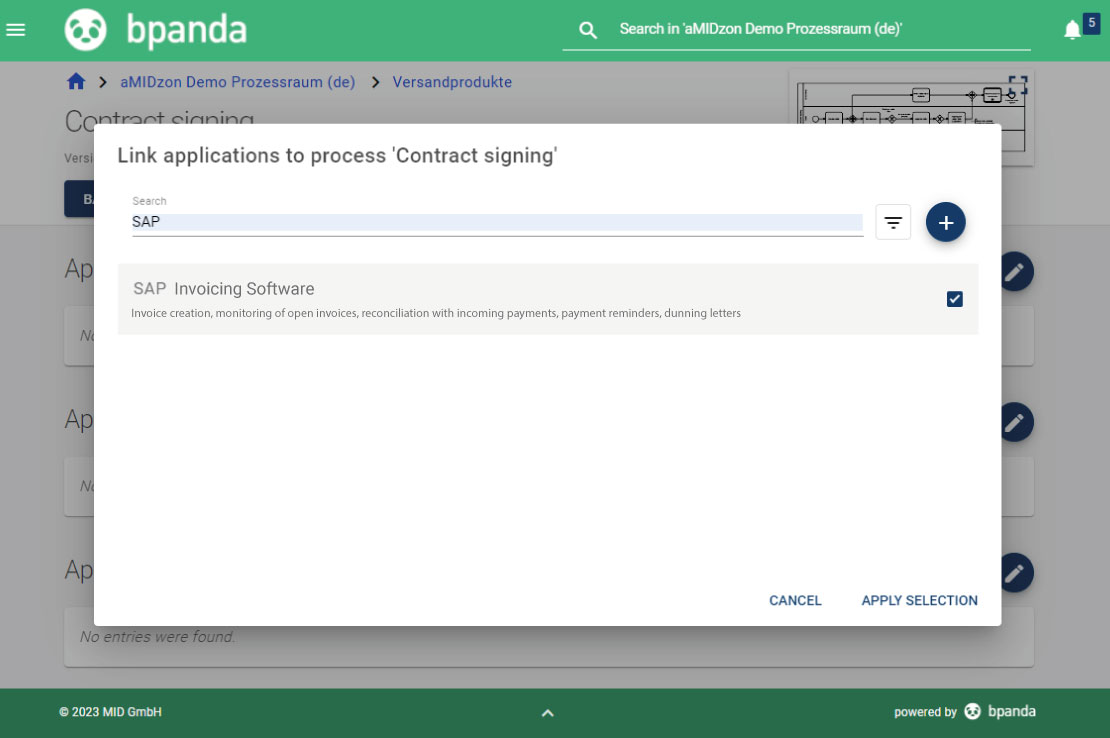 Linking Applications with Processes
If you are a BPM manager or process owner, then you can link your applications with applicable processes to show the relationship between processes and applications. You can store the application in the process itself if it is required for the complete process. If an application is only used for a certain process step or by a certain lane, then you can link this with one precise process element or individual lane. This makes it easy for Bpanda users to trace which applications are needed for running a process.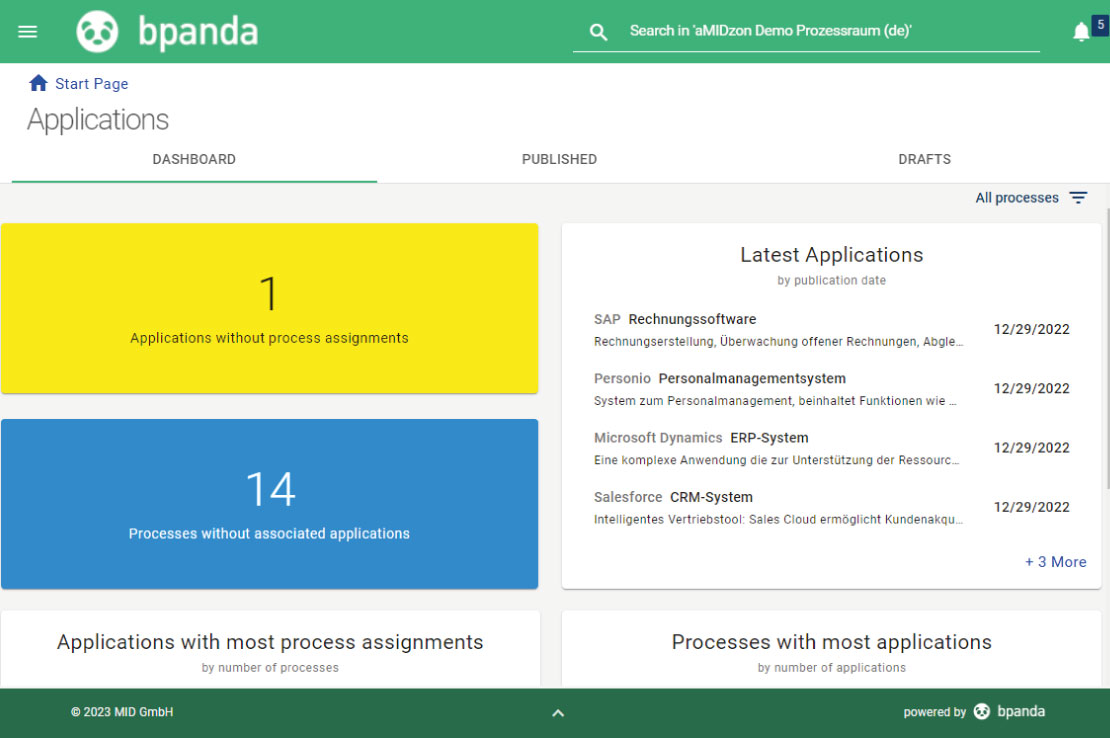 Application Analytics in the Dashboard
Your applications dashboard contains exact analytics of your company-wide application landscape. This allows you as BPM manager and application owner to maintain an overview of links between all your processes and applications. e.g. you can recognize risks such as the impact of server failure and reduce these risks. You also have the chance to take appropriate measures so that your process flows can continue to run smoothly. The dashboard also uncovers shadow IT and can help you to avoid redundancies and make saving potentials transparent. You can click on all figures to easily navigate to the linked processes or read detailed information about the application. You can also export all your analytics as a CV file in just a few clicks. This means you don't have to work directly in Bpanda but can continue analyzing the data elsewhere.
be compliant – Creating , Publishing and Evaluating Risks and Chances
Chance and Risk Analyses
Bpanda enables you to store chances and risks precisely where they are relevant within the process. This enables you to make events which can have a positive or negative effect on the process and its result known to all process users. You can evaluate a chance or process when you create it by storing possible effects, incidence rate and damage extent or success factor. This feature will ensure that all of those involved in the process know about possible risks and can take these into consideration based on their priority. You can also implement processes in such a way that the chances you defined will be fulfilled. Bpanda helps to ensure that your processes are effective and sustainable longterm.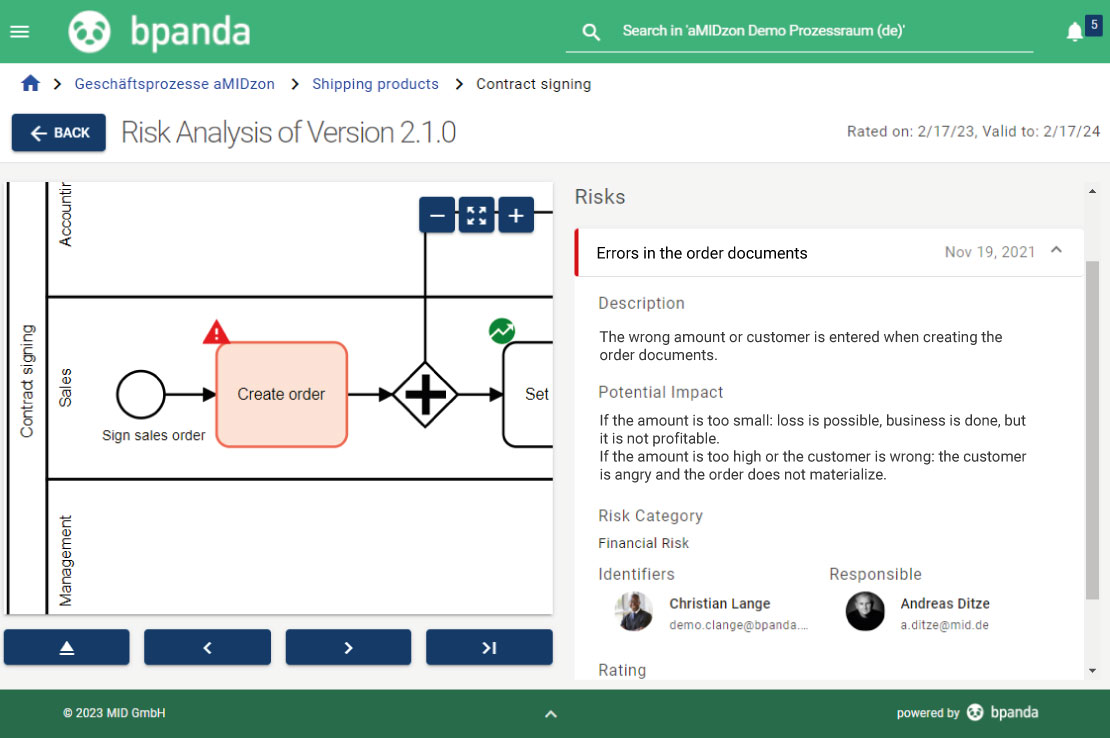 Risk Management Dashboard
The risk management dashboard gives you an overview of analytics for all your risks. You can see from your dashboard if there are any overdue analyses, which analyses will be carried out over the next 30 days, and it gives you an overview of the various categories for your risks. The risk matrix also prioritizes your risks according to incidence rate in relation to possible damage extent. So you can see straight away which risk to bear in mind or which to remove.
You can click on all analytics and will be taken straight to the process or individual process element. This ensures that no risk will go unnoticed and you can prioritize them correctly.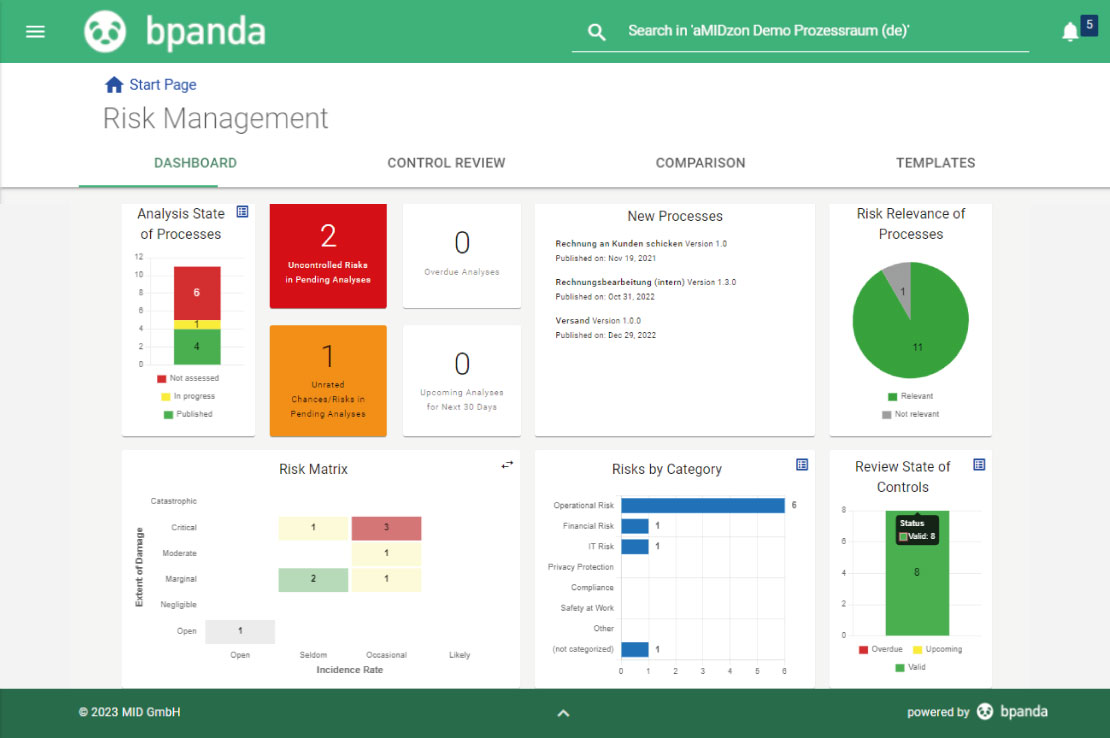 Control Your Risks
You can add controls to your risks to continuously check them. You should regularly control high-risk processes or process elements. You can determine the control frequency, type of control and control mechanism. If you notice vulnerabilities in the process when carrying out your controls, then you can make a note of these directly and take the necessary steps to avoid these in good time. The result: good controls which actually reduce your risks. Your dashboard will always give you a good overview of the status of your controls. Control reviews show you all your evaluation criteria at a glance, such as the total evaluation, performance, efficiency etc..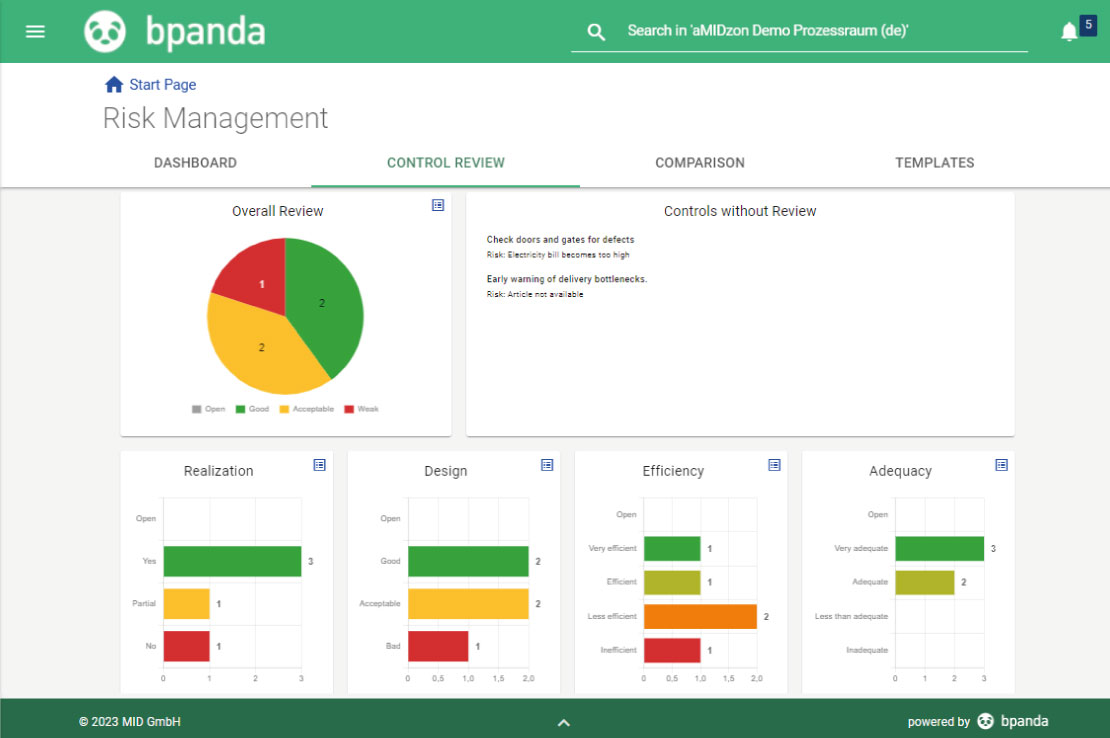 Numerous Additional Features

Tasks
You are assigned a task as soon as someone asks you to perform an activity in Bpanda (e.g. review, job, process validity). You will see this directly on your start page and in the Tasks dashboard.

Notifications
Notifications keep you informed about your processes and tasks in Bpanda. Notifications and e-mails always keep you up-to-date with new changes that are relevant to you.

Accessibility for Visually Impaired Users
Bpanda uses high contrast fonts and colored labels. It can also be used in a black and white high contrast color scheme and can easily be scaled to 400%.

Personalize Bpanda
Customize Bpanda to suit your corporate identity and create a familiar look and feel for your colleagues. Upload your logo and color values into the tool to personalize the interface.

Multiple Languages
Bpanda is available in many languages. Each user can select their own system and content language. Process designers can also translate processes into various languages using the translation dialog.

Define Your Own Guidelines
You can define your own BPMN limits and possibilities in Bpanda. Specify which elements are available for selection for your processes, set your own rules for warning notices and generally make things as easy to understand as possible for everyone.

Process Versions
All changes made to a process are stored as different revisions. This ensures process traceability of both the current status and also the version history for both the process owner and participants.

Search
You can use the search feature to quickly and easily search the process space. The search already starts suggesting search words as soon as you start typing. You can also filter the results.
Our references: Here is just a selection of many customers who put their trust in Bpanda.