Special Release: Bpanda Connector
It has been possible to connect Bpanda to our modeling tool Innovator since the beginning of the year via the Bpanda Connector. This enables you to transfer process maps you modeled in Innovator to Bpanda or to adopt Bpanda processes into Innovator. Our November 17 release brings with it a few new functions and an improved structure for the Bpanda Connector. As of Innovator Version 14.3, there is now another plug-in for importing process maps, processes and organizational structures into Bpanda. These new features will be available from plug-in Version 1.1.1. You can find the plug-in as usual in the Customer Area.
Step 1: Select Data for Import
Data is selected in the 1st step when importing process maps, processes and organizational structures from Innovator to Bpanda. You can now use your saved Innovator searches as the data basis for the import. This saves you time so you no longer need to individually select all the data. Of course you can go through the results list before import and remove individual data you do not wish to import, simply by unticking it.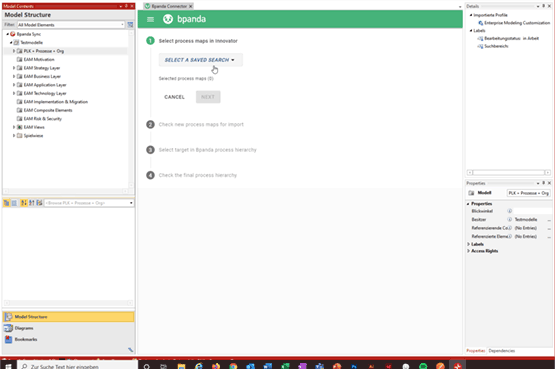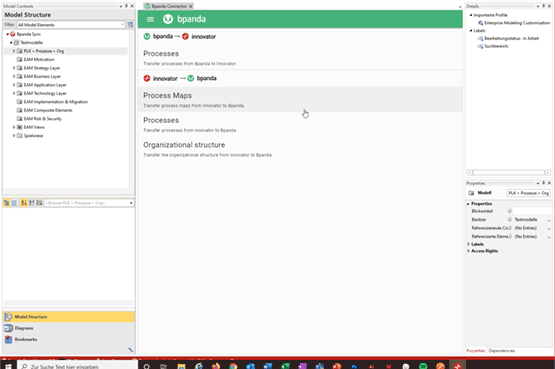 Import Process Maps
Once you have selected the process maps to be imported (see step 1), then a verification is carried out to check whether anything already exists in Bpanda. You can then decide whether you want to update this data or import it as new. All links are preserved, as is the existing process hierarchy in Bpanda. Only content (e.g. SVG image, description, new links) is updated.
Import Processes and Collaborations
You can now use the Bpanda Connector to import processes and collaborations from Innovator to Bpanda. Once you have selected processes for import (see step 2), then a verification is automatically carried out to check whether these processes call further processes. You can then decide whether you also wish to import these subprocesses as well or not. You can decide whether the imported processes should retain how they look in Innovator or whether they should look like processes which are created in Bpanda. Warning: If you wish to be able to continue modeling imported Innovator processes in the Bpanda Modeler, then you must activate this function in the Modeler settings.
To import collaborations from Innovator to Bpanda, select the collaboration's main process (see step 1). Then set in the Connector that you wish processes to be combined in one collaboration. This means that all processes which are part of this collaboration will be imported along with the main process into Bpanda.  This collaboration then has the same name as the main process in Bpanda. All information is adopted. Of course you can run through the release process for the collaboration and get feedback for all elements in the collaboration.
You can then go ahead and publish the collaboration as a process and each user can navigate through it using the Guide. The only difference between process details and a process is that the tasks are listed according to process and set out clearly in the "Lists" tab. Warning: This collaboration import is a special feature in Bpanda and needs to be activated by an admin in the process space!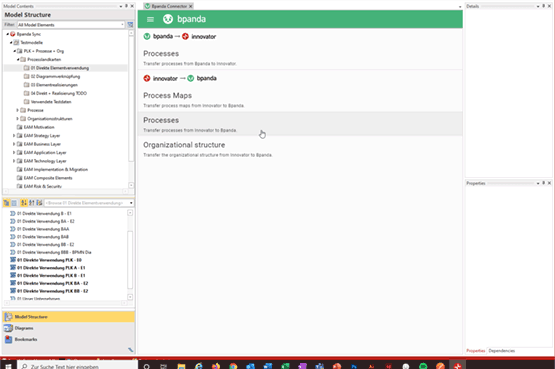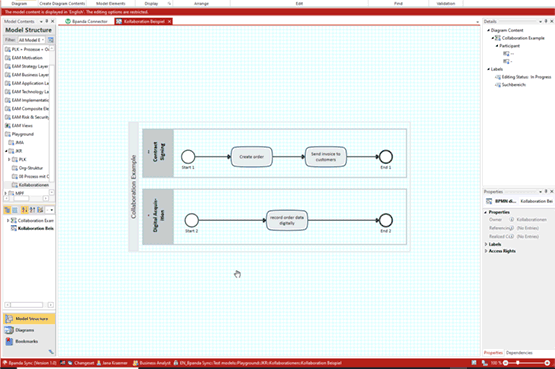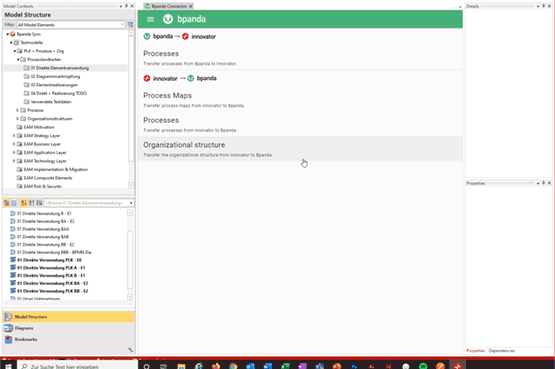 Import Organizational Structures
You can also import organizational structures (org. structures). Start off by selecting the organizational structures in Innovator which you want to import to Bpanda (see step 1). Unlike with processes, org. structures are completely overwritten when imported into Bpanda, i.e. The entire organizational structure is updated. The connector also shows you how many org. structures are updated or added as new.
You can also decide whether the BPM manager in Bpanda is allowed to continue editing the imported org. structure (activate). Do not activate this function if you only wish the org. structure to be edited in Innovator. The BPM manager is then informed in Bpanda that the organizational structure hierarchy can only be edited in Innovator. Of course it is possible to continue defining additional roles for the individual org. units in Bpanda; these will be retained even if the org. structure is updated from Innovator. This clearly defines which tool the org. structures should be maintained in and means that the data is not entered twice.
If you have any questions about the Connector which links our tools Innovator and Bpanda, then please get in contact with us at vertrieb@mid.de. Have fun using the new Connector functions!