Processes the Way They Should Be – FINALLY a Reality with Human Workflows!
Active and Structured Completion of Process Work Steps.
Realtime Overview of Current Process Status
It has never been easier to keep an overview of all active processes. Check your and your colleagues' current jobs using the Jobs dashboard. One click and you can check the live status of a process. The clear diagram makes it easy to check the current status of a process without needing to know the process inside out. You can immediately see who is working on which step, which steps have already been completed (marked in green) and what still needs to be done.
Realtime information means that you are always up-to-date and can maintain an overview of your process. This guarantees process transparency and comprehension! What this actually means for you and your company: thanks to Jobs, you won't need annoying control slips any more. You won't need to chase people up on the phone to find out information and you will no longer feel like you don't know the status quo of your process.
Cross-Team Processes All in One Place
It has never been easier for different departments to work together on a process without progress being hampered due to ensuing chaos and uncertainty of who is in charge. Thanks to Jobs, you are notified straight away with your clear task when it is your turn within the process. This means you know exactly what you need to do and can get going straight away. What do you do when you've finished your task? Simply hand the job over to your colleague and allow the process to continue running through.
The activity stream tracks precisely what has already been carried out and shares this information in one system so that everyone can access it. This means that information no longer gets lost along the way and everyone knows what needs to be done and when. Traceability and a collaborative working environment – profit from Jobs! Don't hang around any longer; say goodbye to inefficiency and media breaks in your company once and for all.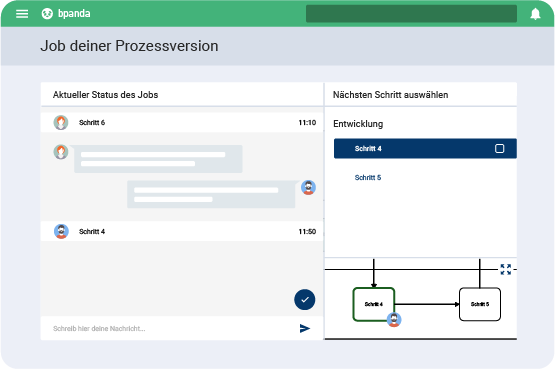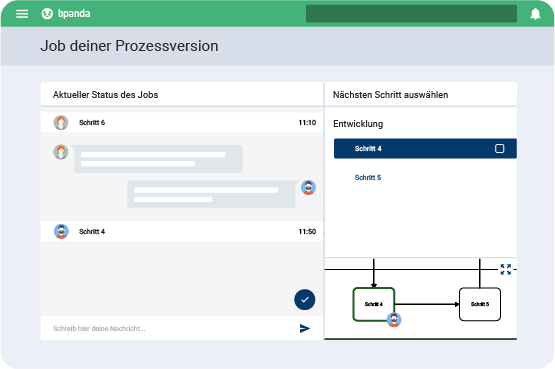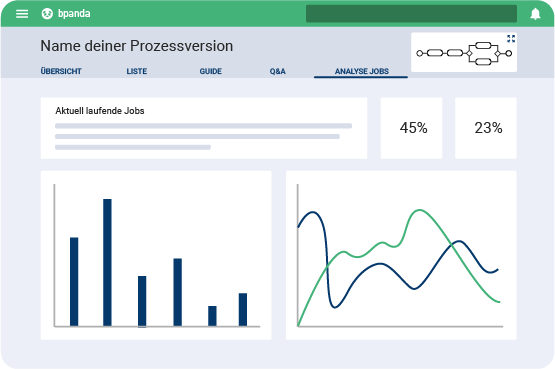 Optimize Current Processes with Job Analytics
It has never been easier to obtain thorough and realistic information about the processes within your company. Data required for analysis is automatically gleaned whilst you and your colleagues are collaborating on a process. The easy to read evaluation graph for each process can be found in the analysis area. Why not have a look now just how many and which jobs are currently running for a process, how many jobs were completed within the deadline etc.?
Key indicators are the objective basis for optimizing a process. Use them to continue improving your company's processes, armed with hard facts from the operative day-to-day work. Your processes will become more efficient and you yourself will become more effective. Thanks to Jobs, your processes will never again be documented simply to be stuffed in a drawer and forgotten about.
How to Effectively Implement Jobs Within Your Company
Have you got processes spanning throughout various departments within your company? What about processes that require different employees from different locations to collaborate together? Have you got processes within your company that need to be carried out at regular intervals and repeated? Are deadlines of paramount importance to ensure the process runs as planned?
Human skill and expertise are what is needed and process automation is not (yet) possible. A clear case for Jobs! Inefficient collaboration is a thing of the past and process progress is transparent with Jobs! You always have an overview of deadlines and can continue to optimize your processes.
You can bring more of your company's processes to life than you think using Jobs! What are you waiting for?!
Examples of Application of Jobs:

Onboarding

Release

Order Processing

Customer Service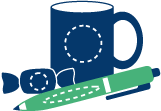 Approval of Advertising Materials

Invoice Approval
Our Support for Effective Implementation of Jobs
See Human Workflows and Jobs in Action
Do you like the sound of human workflow management but would like to see live how to bring your processes to life using jobs? No problem!
Check out our webinar recording (approx. 43 mins) "Bring your Company Processes to Life with Human Workflow Management."
We explain the basics, advantages and limits of human workflows using case studies using a live demo in Bpanda. We hope you enjoy watching it!
REQUEST RECORDING
Cheat Sheets for Jobs in Bpanda
You can't wait to get started bringing your business process management to life using Jobs in Bpanda?
We have created two cheat sheets to make it even easier for you to start using Jobs straight away.
Handy hints from process owners and users for you, your colleagues and the entire team.
DOWNLOAD HERE
Is it really that easy?
This is what our customer Open Doors has to say...
"Bpanda is a super lightweight process management tool which provides us with the support we require to provide services to our customers. We particularly like the quick and easy documentation and the new feature "Jobs". This enables those involved in selected processes to actively implement and embrace them. We have improved our transparency and collaboration between teams and also seen an increase in productivity. Bpanda helps to free up money in the administration, allowing us to donate more money to countries with persecuted Christians."
Our references: Here is just a selection of many customers who put their trust in Bpanda.
Test Bpanda 30 days for free and with no strings attached!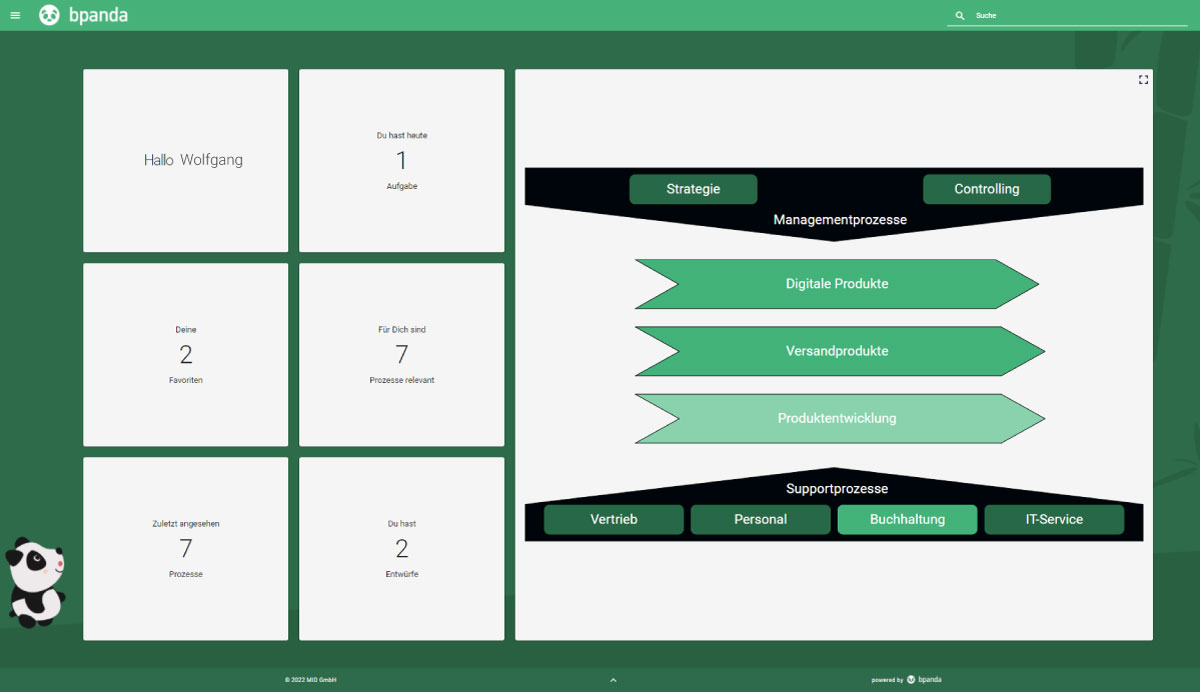 You can get started by reading everything about Jobs and checking out the Demo videos. But the best thing to do is obviously give it a go yourself and try out Jobs in Bpanda.
Try our free 30 day Bpanda trial account. Jobs is a collaborative feature so we recommend getting others to test it with you. Simply invite up to 5 other people to test out Bpanda with you when you register for your trial account. Use our demo material or create your own processes and bring these to life in real time with everyone involved in the process.
TEST BPANDA NOW
Process Management with Bpanda
Jobs is just the ticket you need to bring your company's processes to life ONCE AND FOR ALL.
This roundup will show you how to make your process management more professional thanks to Bpanda and how you can use it for optimum support in your daily work life: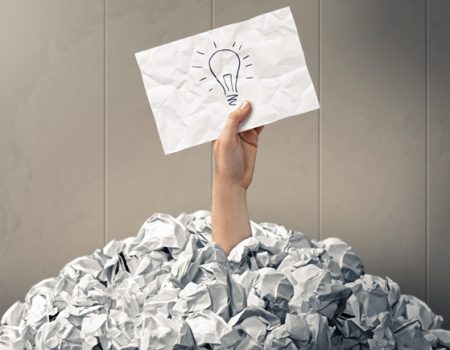 Quickly and Easily Find Your Processes and Always be Well Informed!
Bpanda's intuitive and modern user interface enables anyone within a company to easily find their way through the process landscape. You can quickly and easily find all relevant process information. Information is set out in a clear and easy way so that all team members know what steps need to be carried out.
Overview of Features:
Process landscape with process map editor
Full-text search, incl. all attachments
Process page with guide and Q&A area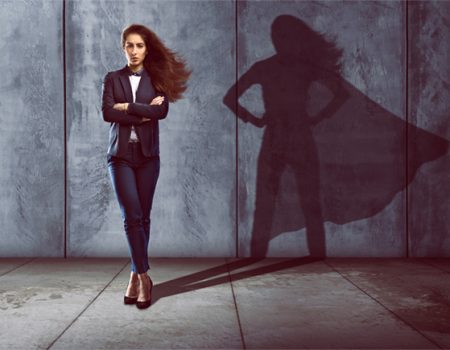 Create Your Processes Yourself!
Anyone can use Bpanda to model their own processes, regardless of their previous modeling experience. The editor can use spreadsheets and automatically creates the "happy path" (the typical standard procedure of a process) in line with the information entered. The result: a BPMN 2.0-compliant process that can be added to at any time using the Modeler.
Overview of Features:
Plain text description of processes
Uses existing documentation
Happy Path Editor
Modeler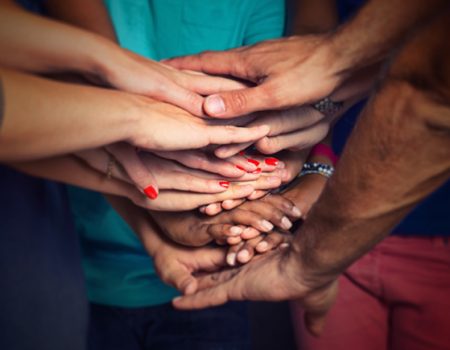 Develop Your Processes Together!
Bpanda can be used as a direct channel for communication so that anyone can share their wealth of knowledge about the process with their colleagues. You can use reviews to give direct feedback about processes and develop these further as a team. This continuously improves the quality of the process throughout the entire company and enables a transparent workspace.
Overview of Features:
Individual release process
Review possible at any time
Q&A area on the process page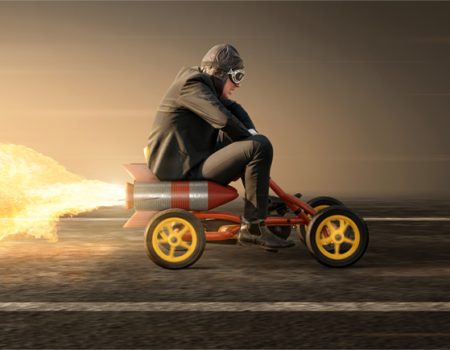 Use the Power of Jobs!
Bpanda uses "Jobs" to take process participants through the process step-by-step. The flow is visualized in such a way that even those working in different teams know who carries out which process step and everyone can view the log. This enables both seamless collaboration and a glimpse into the actual workflow to unlock your company's potential.
Overview of Features:
Jobs dashboard
Activity stream
Job analyses
Always Stay Up-To-Date!
Sign-up to our free newsletter and look forward to:
Regular information about Bpanda
Practical Webinar dates
Handy hints about process management
Inspiring customer examples
SUBSCRIBE NOW