Tasks: Expired Process Versions
We're sure that all you process owners have already been using tasks for expired process versions in Bpanda; this task sends you reminder 6 weeks before the end date to remind you to publish a subsequent version for the respective process. Our November 17 release brings with it some added extras for this task. Bpanda now automatically changes the text for the respective task once the process version expires to "The version of your process xyz has expired. Please organize a new process version". The task dashboard also shows you how long this task has been overdue for. This helps you to keep an easier overview of urgent matters if it does somehow happen that you don't get round to organizing a new process version.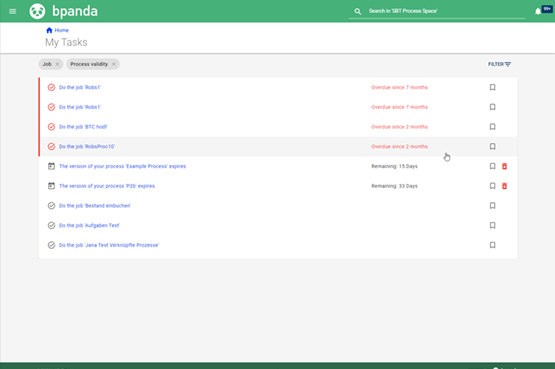 Tasks Dashboard: Overdue Tasks
Your tasks dashboard now shows you all tasks where the deadline has passed and how long ago this was. Bpanda automatically sorts your overdue tasks from the longest overdue task to the most recent. This chronological prioritization helps you to keep an overview, particularly if you have lots of tasks. The task which is longest overdue is not necessarily the one that is the most important. It is also possible for you to use the bookmark icon to select the overdue tasks you feel are most important; these are then shown at the top in the "Marked" category so they won't get lost among the other tasks.
Expired Process Version: Extend Period of Validity
Process owners always keep an eye on the validity of their processes. Once a process has expired and there is no valid and published subsequent version, then the process owner always used to have to edit the expired process version as a draft and submit a new revision. You can now simply extend the period of validity for expired unchanged process versions. To do this, click on "Validity and Version Information" in "Settings and Information" in the process details menu. You can extend the period of validity for the process here. It is a good idea to add an explanation, such as "No Changes" to the change summary. This saves you loads of time and ensures traceability throughout your company. Watch Out: you should only extend processes if no changes have occurred for the process; if changes have been made, then you should publish a new revision instead.