Organization: Structure and Multiple Languages
Our January 26 release brings with it more structure and overview of your organizational structure in Bpanda. We have renamed the area in the menu "Organization". Here you can find the three areas "Organizational Structure", "Organizational Roles" and "Employees" hierarchically in the tree structure and no longer as tabs. Their previous functions remain the same.
The "Allow rearrange" switch is a new feature. Activating this allows you to rearrange your organizational structure using Drag&Drop. This area is now also available in multiple languages. Use the translation icon for directly adding or maintaining translations for your organizational structures and roles. This also means that you can import translations for these areas from Innovator to Bpanda using the Connector. The "Employees" area is now even easier to use and shows you in just a few clicks which roles and responsibilities your employees have been assigned in Bpanda.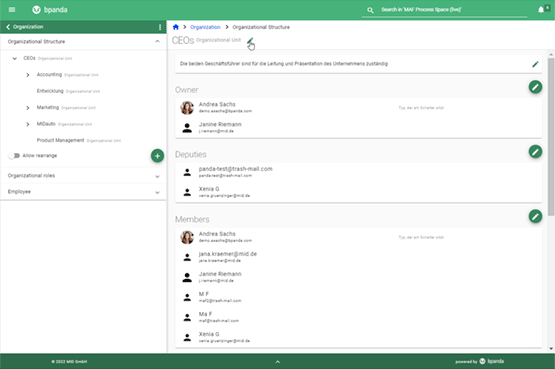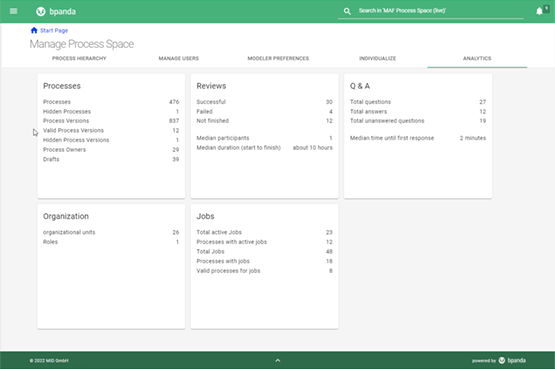 Process Space KPI: Valid Process Versions
As BPM manager, you can easily and efficiently keep an overview of your company's process space using the process space KPIs in Bpanda. You now have an extra KPI tile in your overview: The number of valid process versions. You can find it under the "Analytics" tab in the "Manage Process Space" area along with your other KPIs. The number of valid process versions is now also shown directly below the number of process versions when you click on the "Processes" tile.
(Performance) Improvements for Bpanda
As you already know, we care a great deal about your and all our customers' feedback. We want it to be fun using Bpanda while also being efficient. This is why we are continuously working to make Bpanda high quality and user-friendly; and 2022 will be no exception. We have already made small improvements to functions; for example, we have added two further values for risk and chance control frequencies: you can now select "Biannually" and "If necessary". It is now also possible to format the description texts for your process maps. This means that you can now make the text bold, add hyperlinks and structure it with bullet points. You can also import description texts from process maps in Innovator to Bpanda using the Connector.