Process Page: Calling Processes
We're sure you've already linked one or two processes using call activities in your processes when documenting your processes. With the March 24 release, process users can now keep an overview of these dependencies directly on the process page and see which other processes are currently linked to this process. There is now the new area "Calling Processes" in the "Overview" tab at the bottom of the process page for doing just this. All processes which call this process are shown as a list. The current valid process versions are shown here; simply click on them to jump directly to them. Of course we have also added this feature to the process details print function. You can also now print information about "calling processes".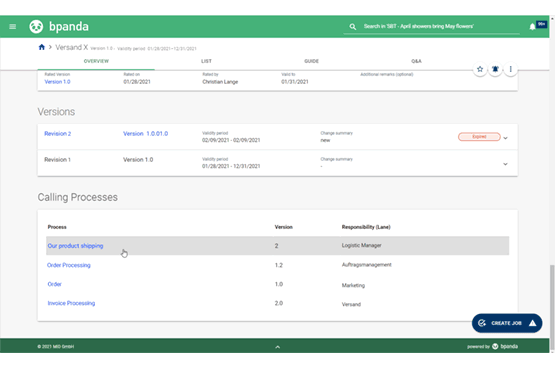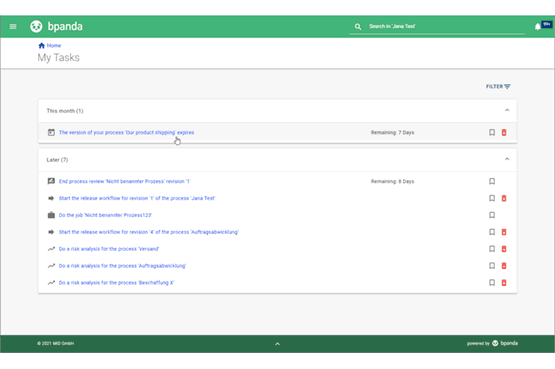 Tasks for Expired Process Versions
As you already know, there should always be one valid version for each process. Bpanda now sends a task to remind process owners and BPM managers to publish a subsequent version in good time so they never forget.  The task always appears in your "My Tasks" list six weeks before the end of a process version if you haven't published a subsequent version at this point in time yet. Use them as a reminder to take care of the next version in good time. You can still jump to the relevant process version straight from the task as usual. The task is automatically marked as completed once a subsequent version has been published. You can delete the task if you do not need a subsequent version for this process.
Change Colors Easily in Bpanda
It is now even easier to change colors in Bpanda to suit your CI. You can enter your company-specific primary and secondary colors as both hex values and RGB or HSL values in the "Individualize" tab under "Manage Process Space" in our new and improved interface. There is also now a color scale that you can choose your color from without needing to know its precise value and a color preview right next to it. Bpanda automatically adjusts your primary and secondary colors once you have set and saved them.