NEW: Bpanda Self Help
The September 28 release brings with it a new feature: the Self Help. The Self Help is a useful interactive Help which guides you, as Bpanda user, through the tool to certain topics. You can find it on the right-hand edge of the Bpanda screen in both English and German. You can also move the Self Help somewhere else on the screen using Drag & Drop. Simply click on the button to expand the Self Help. It is packed full of helpful content relevant to your role in Bpanda and relevant to the context you are searching. It contains interactive step-by-step guides to particular questions and context-specific links which you can open in Bpanda. The advantage: You don't need to open any external sites in various windows; all you need is right there in Bpanda. This makes it easy to get started and allows your users to get going on their own.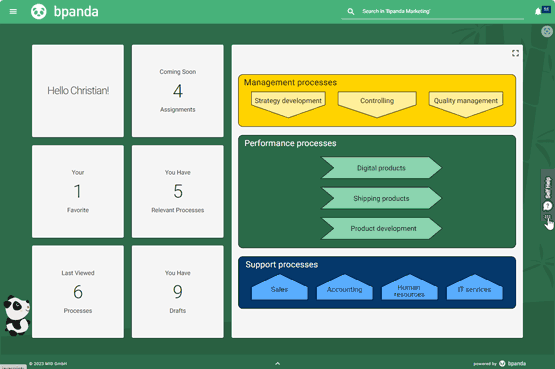 The Self Help is now available as standard in all new process spaces. Can't See the Self Help? Please contact our Customer Success Team at wecare@mid.de. We will contact you and activate the new feature in the tool for you.
Activate the Self Help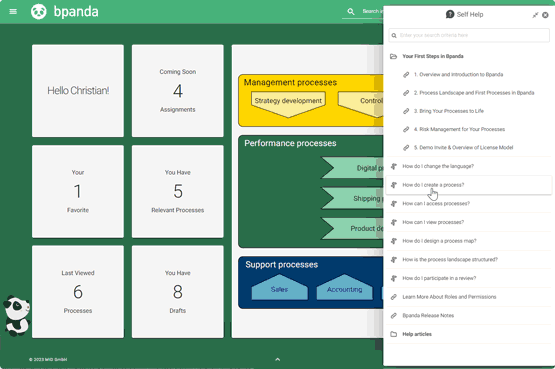 The Self Help Guides you through Bpanda
The new Self Help is an interactive guide providing you with the information you need about particular topics step-by-step. e.g. You can find answers to questions such as "How do I create a new process?" (1) or "How can I access processes?" (2) in the Self Help! Click on the Self Help icon on the start page. Once you expand the Self Help window, you will see various useful content aimed towards your current context in Bpanda (start page) and your current role in Bpanda (e.g. BPM manager for question 1 and user for question 2). Click on a question and follow the interactive guide which will take you to where you need to get to step-by-step. We'd love to hear your feedback about how helpful the topics were so that we can keep improving the Bpanda Self Help for you.
The Self Help Shows you Specific Content
The Self Help contains both interactive guides and also context-specific links. The linked pages open within Bpanda so you don't even need to leave the tool. If you are on the start page, for example, then the Self Help contains various interesting information from our Bpanda Help, e.g. the role structure within Bpanda. Use the Self Help here just as you would a context-specific search and click through the entries relevant to where you currently are in Bpanda. We've also included various links to interesting content, such as webinars to get you started using process management within your company. Keep an eye out for what information is coming your way in the future; we are constantly adding extra content to our Self Help, not just when a release comes out.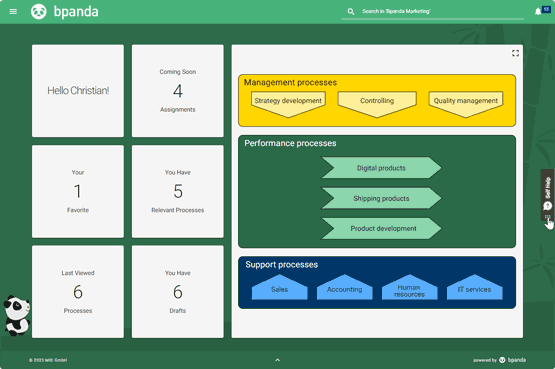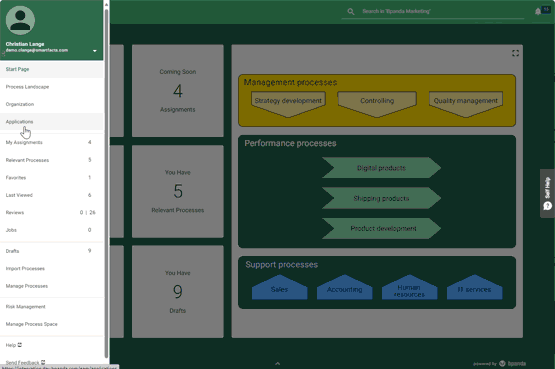 Import and Export Applications as ArchiMate® XML Files
Our last release saw BPM managers being able to export applications as CSV files; Bpanda now has another format available for you. BPM managers can now also import and export their company applications as ArchiMate® XML files to and from Bpanda. We use the prevailing industry standard for Enterprise Architecture Modeling and enable you to easily import applications which you previously managed in a third party tool to Bpanda. Data is compared with each XML import, meaning that existing applications in Bpanda are updated and new ones are added directly as drafts. Once these have been released, you can assign these directly to the appropriate application owners. Use the respective 3 point menu for import and export of published applications and those in draft mode.
By the way: We are already planning additional Enterprise Architecture features, so watch this space to see what's coming in Bpanda!
We have also fixed bugs reported by our customers:
The list of process content is now shown in a chronological order. Process content is also now shown as a list in the same order in which it will be run through in the process. Each element is only listed once. If there is more than one path in the process, then the content is listed after each path, but no more than once.