Managing Processes: Adjust Validity
BPM managers or process owners always used to have to individually extend each expired or soon to expire process. Our October 25 release brings with it a new function under "Manage Processes" for this. You can now select multiple or all processes which are about to expire or have already expired and quickly and easily extend them in the "Adjust validity" area. This saves you a lot of time and effort. Use the filter so that you are only shown the affected processes in a clear list narrowed to show only certain criteria (e.g. expiration date or process level) and decide which processes you want to bulk change their validity for. As soon as you have selected the processes, you can use the top right-hand button to set the validity for these processes. By the way: A clear dashboard is also coming soon in this area which you can use to keep a even better overview of your processes.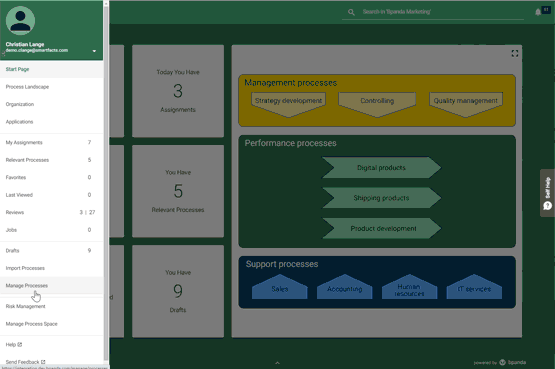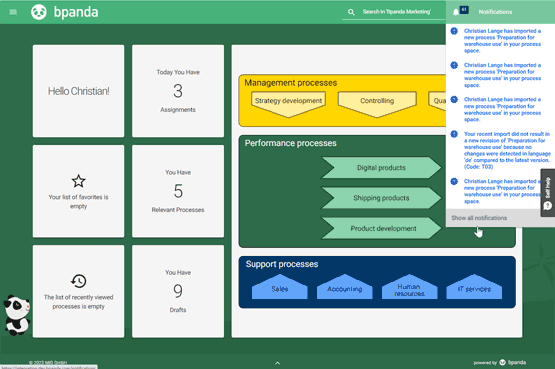 Notifications: New Look & Delete Options
The "Notifications" area in Bpanda has also been given a new and modern look. It now has super clear tabs for your notifications and subscriptions. Your subscriptions are no longer shown as tiles; you can now see everything in a clear and sleek list. All other functions and filters are available as before. You can now bulk delete all read notifications in your notifications area in the 3 point menu. You can also bulk mark your notification as read. Take this opportunity and get your notifications nice and tidy in Bpanda 😊!
ArchiMate® XML Export with Process References
Since our last release, BPM managers have been able to export applications in Bpanda as ArchiMate® XML files. This export now also contains the reference to process references. This means you can now view the application export from Bpanda using a tool with ArchiMate® capabilities (e.g. Innovator). Create an ArchiMate® diagram using the data to give you a clear overview of the relationships between your applications and processes.
Send Error Report from Bpanda
In the rare case that an error occurs in your process space, Bpanda now has the option of automatically sending an error report to our support team. This makes it even easier for you to deal with any errors which may occur. To log an error, simply click on "Show More" on the error displayed and then on "Send Error Report". This allows you to quickly and easily send the error to us in just a few clicks. The error report contains important technical information about the cause of the error and helps the support team to fix the issue. Feel free to add more details to the automatically-generated e-mail (e.g. a description of what you did before the error occurred) before sending it to support@bpanda.com. We will then be in touch as soon as possible to help you fix the error.
We have also fixed bugs reported by our customers:
Clicking through a decision in the Guide in Bpanda now shows the drop-down selection again for any boundary events included. You can now click on it as you normally would to go through the process fully.
Pages or processes in your process organization in Bpanda are often linked to other systems within your company, such as Confluence or SharePoint. If you use more than one process space, clicking on the link now takes you to the linked content in Bpanda with no issues. Older links may not yet have the process space ID. If this is the case, then you first need to select the right process space after clicking on the link and then re-click on the link so that it takes you to the right place. Tip: We recommend always using the "link to currently valid process version" option when sharing a process link!