NEW: Process-Specific States
Bpanda is based on a clear role concept which controls rights and permissions. We're sure your company already has its own special terminology which differs from the formulation used for roles in Bpanda (e.g. process owner etc.). We listened to your feedback and have added to the role concept so that "competences" are included with the April 26 release. Nothing has changed with the role concept; this is an extra option to add your individual name conventions to Bpanda roles.
The BPM manager first needs to set up the competences globally. The "Manage Process Space" area now has an additional tab called "Competences". You can now create process-specific competences globally here. As soon as you have created a competence (e.g. process supervisor, process tester etc.), then you can add a description and translate the title. The BPM manager or process owner can then add the respective competence to people in a process. To do this, simply click on "Roles and Permissions" under "Settings and Information" in the process' menu.
You can now add competences to both process owners and process collaborators; you cannot add them to process participants. A person icon with a little gear wheel appears when you hover over a person, group, org unit or org role with the mouse. Clicking on the icon opens the selection dialog for assigning competences. You can assign multiple competences at the same time. These then appear next to the people as little labels or tags so that each user can see them straight away.
Watch out: these are process-specific competences, so they must be assigned per process and are not stored per person. If you have already added competences to processes in Innovator, then these are of course imported along with the processes upon import to Bpanda. If you have any questions or feedback about process-specific competences, please contact us at support[at]bpanda.com.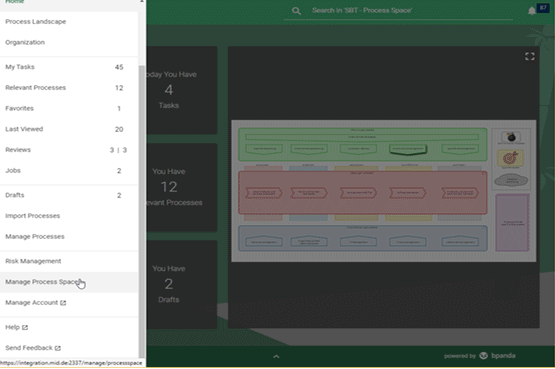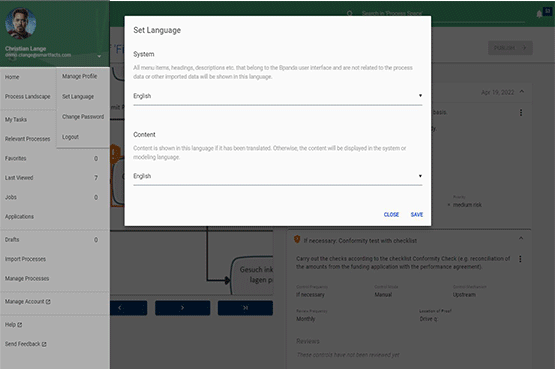 Bpanda Connector: Importing Multi-Language Risk Analyses
As we're sure you already know, you can import risk analyses along with processes from Innovator to Bpanda using the Connector. It is now also possible to import translated risk analyses. If the risk analysis already exists in Innovator in e.g. German and your content language is set to German in Bpanda, then the imported risk analysis (e.g. title, description, effects etc.) can now be shown in Bpanda in the German language variation now available. This opens up another component which is now available in multiple languages in Bpanda.
Process Full Screen Mode: Icons Visible as Default
Bpanda's process full screen mode shows you a complete process in a large size so that you have a complete overview. You can use icons to show which process steps have descriptions, attachments and risks/chances stored. You previously had to click on the icons in the menu themselves to be able to see them. The icons are first shown by default to make sure that you can see everything that is linked to the process itself and the individual process steps. But, of course, you can decide for yourself which is your preferred view as Bpanda user. If you don't want to see the icons, then simply change the settings in the menu and uncheck the box which is checked by default. Bpanda will store you settings per user and process space.