Organization: Linking Organization Units and Roles
Our February 23 release follows on nicely from our restructuring of the organization in the last release. BPM managers can now directly link their organizational units with organizational roles, without an employee already needing to have been assigned to an organizational unit or role, as was previously the case. Organization now has a new area in Bpanda: Linked Organizational Roles / Linked Organizational Units You can use the pen icon to create new links. The link icon which then appears to the right indicates that the link exists. The advantage of this link is that it is not dependent on an assigned employee, so won't become broken if an employee leaves the role or unit. The link between the role and unit remains regardless.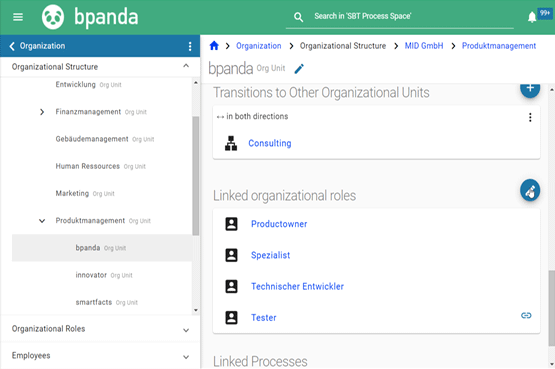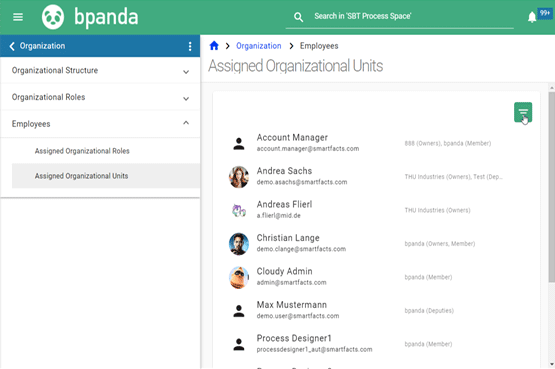 Organization: Adding Employees to Org Units as Members
You can now also add an employee to the "Organization" menu item as a member of an org unit, as well as owner or deputy still. You only used to previously be able to do this via the organizational unit, not via the employee as is now the case. To do this, simply use the "Assigned Organizational Units" area under "Employees" in "Organization". The filter is automatically set so you can see which employees have already been assigned to an organizational unit. Simply remove the filter if you wish to see all employees. Click on the person icon at the end of the row for the respective employee to add them to the organizational unit as owner, deputy or member.
Bpanda Usability Hampered with Internet Explorer 11
Usability of Bpanda plays an important role for us, which is why we always develop our software using the current technical frameworks. This means that it is not possible for us to support extremely old browsers; which is the case for Internet Explorer 11. An information banner in Bpanda will inform you that slowly but surely it will become unsatisfactory to use Bpanda with this browser.  If you are still using Internet Explorer 11, then it's high time to start using a new browser. We want you to be able to use the full range of functions Bpanda has to offer after all!