Guide Navigation Between Call Activities
You can use the Guide to navigate through the process diagram step-by-step and it shows you the description of process elements and explains process icons. If part of a process is removed from a process diagram, then it is normally referred to as a subprocess. Subprocesses simplify complex processes by pooling information that belongs together. These processes can be identified in process diagrams by plus signs (call activities). With the new release from June 18, you can now click on these call activities to jump to the subprocess. You can also run through this process step-by-step using the Guide. Once you have run through the subprocess, then you automatically jump back to the superordinate process (main process). This makes it easy to follow the entire process including all the subprocesses. You, as process user, can focus on the tasks relevant to you.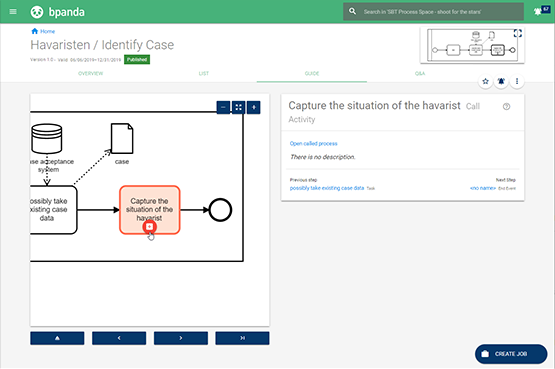 Last Viewed Processes
A bug fix now means that last viewed processes are correctly counted again and can be viewed under Last viewed. Please note that migration is NOT possible. This means that users will not see any last viewed processes at first with this release. The history in the last viewed processes will only be filled once at least one valid process has been opened.
Print Function Extension
The new release brings with it a print function for the process details. We have now extended it to include the label and review status as well as the history (see previous release).