Processes: Editing Revisions in Full Screen Mode
Processes: Editing Revisions in Full Screen Mode
Our September 28 release brings with it a request from our customers so that using Bpanda is now even easier and more intuitive. BPM managers and process designers can now edit process reviews as drafts both via the menu in the process overview and now also directly in full screen mode in the respective process itself. You often find errors or room for improvement when you are checking out the process in detail in full screen mode and can now make these changes directly in the version without needing to jump to the process overview. You can revise existing drafts. If no drafts exist, then you can edit the version as a new draft. The function itself has not changed;the only difference is that you can now make changes from two different places.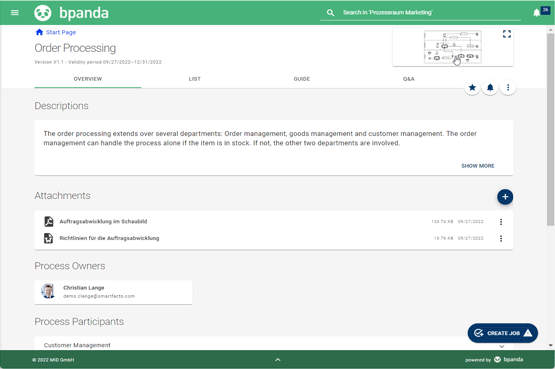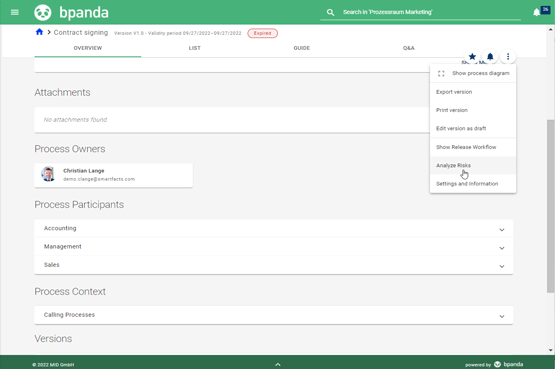 Process Overview: Displaying Risk Analyses
The process overview lists information about the respective process. You always used to be able to see a section for risk management, even if no risk analysis was published or created for this process. It contained information stating that no risk analysis has been created yet. The "Risk Analyses" area below the process context section will now only be shown if you have at least one risk analysis for this process. This ensures that the process overview in Bpanda only contains information relevant to you.
Risk Management: Deleting Risks with no Assignment
Process owners, risk managers and BPM managers can use risk analysis to keep an overview of their risks and chances. A process may be revised and a process step which had a risk or chance attached to it might no longer be necessary. If you create a new risk analysis for the new process version, then you can still see the old risk as an "Unattributed Risk", as the previous risk analyses are always used as a basis for the new analyses. If the risk or chance has already been published, then you can mark it as obsolete without it needing to be assigned to a process (no proof necessary). If it had not previously been published, then you first needed to assign it to a process before it could be deleted. This is now no longer the case and you can directly delete the risk or chance.
Start Page: Revised Tile for Drafts
The Bpanda start page has tiles which contain information relevant to you. BPM managers and process designers also have an extra tile telling them how many drafts they have. The "No Drafts" text used to appear here if you do not have any drafts yet. Now BPM managers can see the text "Create process or process map" and process designers can see the text "Create new process". This will make it more obvious how to create new drafts for processes and process maps and make you want to click on the tile to get started creating your first process or process map.
We have also fixed other bugs which customers found in this release.
Removing a link between an organizational unit and organizational role now immediately deletes this from the view without you needing to refresh the page to see this change.
If you use a pool in the Modeler, then you can directly select the lane when modeling and give it a name and do not have to drag another one in first or start in the Happy Path.
Clicking on a subprocess when in full screen mode now always shows the Properties window on the right-hand side, as is the case with subordinate processes. It is now shown rather than collapsed by default.