New Start Page Interface
The October 26 release brings with it a new start page interface for Bpanda. The white tiles and green default background now make the interface even more intuitive and clearer for all users.
If you currently use Bpanda's default color, then you will automatically see this new background for the new release. If you use a personalized background for Bpanda, then your background will stay the same. The tiles will automatically change color with the new release for all customers. If there is not enough contrast between the tiles and your customized background now because of the change from gray to white, then the BPM manager can easily change the background for all Bpanda users. To do so, simply click on "Manage Process Space" in the menu. You will find the "Appearance" category in the "Individualize" tab. Simply upload your own background image here.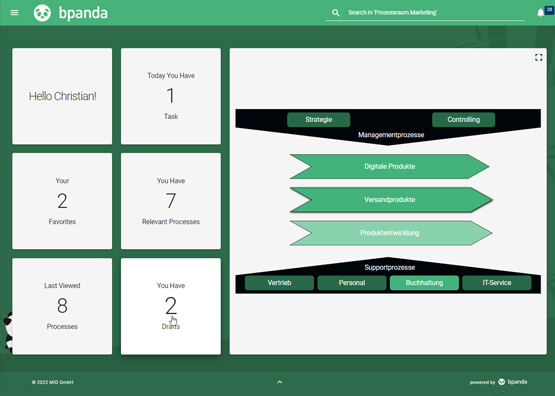 Clickable Paths for Processes
This release brings with it a change requested by our Bpanda users. You can now click through your process path when in full screen mode; this makes navigating through your process landscape even easier. To do so, simply open your process in full screen mode and click through the respective path at the top. This will give you an overview of the relationships and hierarchies for your processes and you can easily return to the main point. You can now also use the shift key in Bpanda to open the clickable paths in a new tab or on a new page. This makes it even easier to navigate through Bpanda.
Subprocesses: Automatic Creation as Expanded Subprocesses
Modelers and BPM managers used to be able to choose between an expanded and a collapsed subprocess when creating a subprocess. This function has been removed for the new release. All subprocesses which you create are now automatically expanded. This means you can see how the respective subprocess is structured straight away without having to manually click on it to expand it. If you already have collapsed subprocesses you use, then you can carry on using these as normal.