Risk Management: Dashboard Enhancement
Our August release already saw the introduction of evaluations for controls for risk management in Bpanda. Risk managers and BPM managers can now get an easy overview of the status of evaluation controls. Our latest release from September 22 includes precisely this information in the risk management dashboard. Traffic light colors indicate the status: green = completed, yellow = pending and red overdue control ratings. Simply click on the appropriate color to see a list of the respective controls. This gives you a good overview of all control ratings and means that effectiveness of all controls you defined will regularly be checked.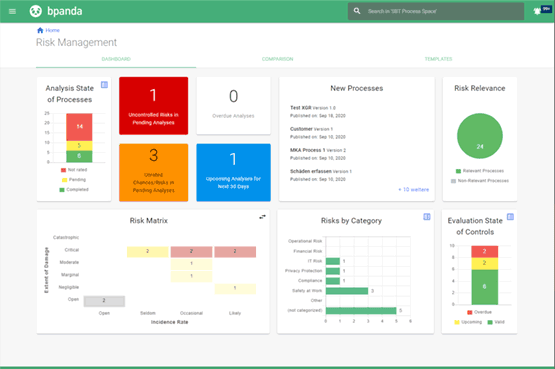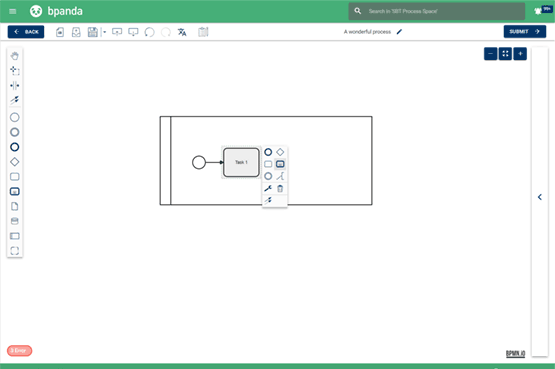 Modeler: Call Activities
If you regularly use call activities when modeling your processes in the Bpanda Modeler, then you are sure to love our link dialog. This now opens automatically once you start using a call activity. This means you can now link the called subprocess directly and won't forget to do it.
Q&A Function Can Be Deactivated
We're sure that you as BPM Manager already know the "Manage Process Space" area in Bpanda pretty well. Have you noticed the "Appearance" tab is missing? Don't worry! We've only renamed it "Individualize". All previous settings remain the same, but you now also have the option of deactivating the Q&A function in Bpanda. All previous Q&A questions and answers are only hidden, not deleted. You can reactivate and reuse the area at any time. The Q&A function is activated in Bpanda as default. We recommend that you allow your Bpanda users to ask questions and answer them as close to the process as possible. This keeps the entire process knowledge as transparent and accessible as possible for everyone.