Risk Management: Evaluation Assessment
Our new August 20 release sees yet another enhancement made to the risk management area. It is now possible to add a time frame to your evaluation if you add an assessment to your risks. This sets how frequently you would like to check the effect of your defined assessment. Evaluation is based on four criteria and one assessment matrix; these then give you one overall evaluation. You can also note any weaknesses you may have found. This allows you to regularly check and assess whether the defined evaluation is still relevant or needs to be tweaked. The result: evaluations which actually reduce your risks!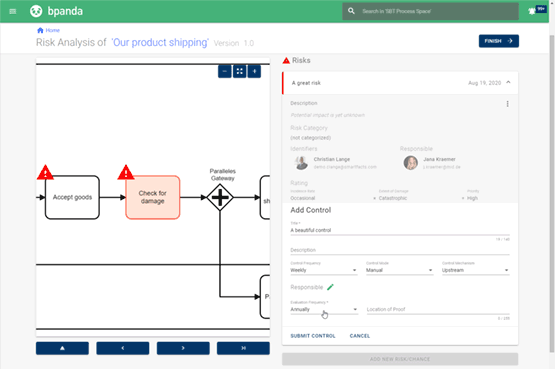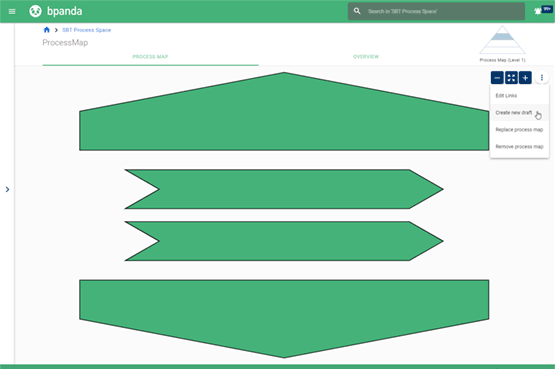 Reusing/Saving Process Map Drafts
As you already know, process maps drafts now have their own tab for drafts. This was merely the first step. You can now create a new draft based on an existing process map and then make changes to it. If you still aren't happy with your draft, then you can simply reset your changes and start over again. If you create and save a process map draft at a particular level, then you can use the process hierarchy to directly access it. This level assignment means that drafts can only be submitted at precisely this level. Simply use the new "Save draft as" function to save a copy of the process map draft without level assignment e.g. to use it as a template. You can even keep existing links in the template. The saved process map draft can still be found under "My Drafts" so that you can always use it as a template for other process maps.
Tasks Extensions
The "My Tasks" dashboard in Bpanda gives you an overview of all of your current tasks. Once you have completed a task, then a message now appears to the bottom-left of your screen:  Task completed successfully. You can also return directly to your tasks. You are now assigned tasks for every step in the release process you defined for your company. This means you will never forget to do anything again… and if you do, then Bpanda will give you a friendly reminder ?.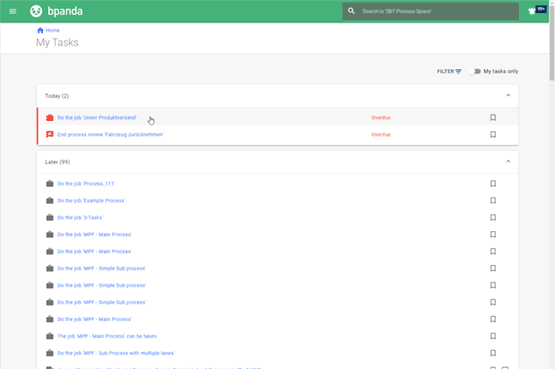 Modeler: 3 New Functions
The August release also brings with it a few new functions for the Modeler. Imported processes can now be edited in the Modeler. BPM managers need to activate this in the Modeler settings for Innovator processes. Warning: A process must be individually imported if you wish to be able to edit it further. It cannot be part of a BPMN file containing multiple diagrams. The task size has also been changed. You can now set a default tasks size for the Modeler and also decide whether process designers should be allowed to adapt the task's size themselves when modeling or not. Last but by no means least, we have also given call activities their own icon in the Modeler. You can find this in the ribbon and carousel next to the Task icon. This means you can use call activities even quicker when modeling your processes.