Process Hierarchy: Linked Elements in Process Map
You can use the process map as a navigation help for your process hierarchy. Our June 22 release brings with it an overview of the process map that shows which elements or processes are linked, i.e. it shows you where you can drill down to another level in the process map. You can recognize this from the shading below these graphic elements. This function is now activated as standard; of course you can opt to turn it off if this is what you would prefer. Simply use the three point menu in the process hierarchy and tick the "Highlight Linked Elements" box. Watch out: This feature is currently only for process maps that you have created in Bpanda and not those which have been imported from Innovator.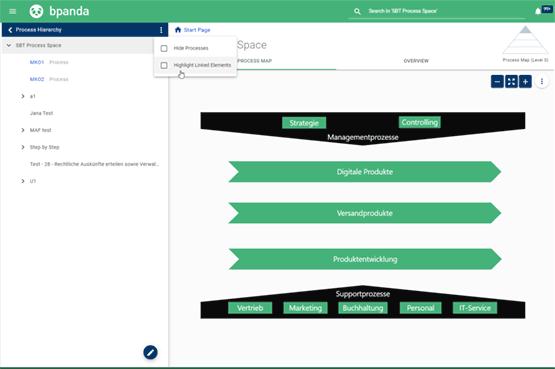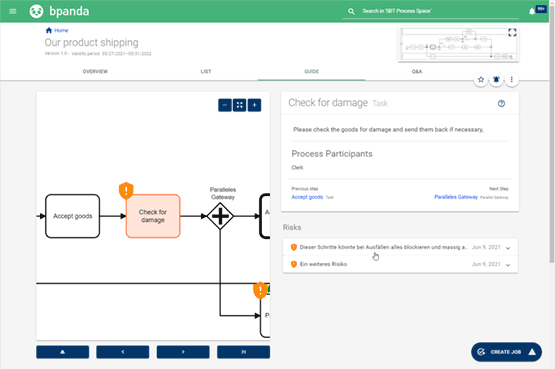 Risk Management: Icons for Risk Controls
We're sure you've already carried out risk analyses for your processes and added chances, risks and controls in Bpanda. You can easily recognize risks and chances thanks to their icons in the process diagram. Once you have defined a control for all risks for a process or process element, then Bpanda changes the red triangle (risk) icon to an orange sign (control). This means you can tell straight away if you've created controls for all an element's risks. The icon is then shown to the left in front of the risk/control title in the risk detail view in the menu. This makes it easy to see straight away if a control has been defined or not, especially for longer risk titles.
Risk Management: Icons in Fullscreen Mode
Chances, risks and controls are now shown as colored icons in fullscreen mode for a process in Bpanda. You previously only used to be able to see them in the Guide. The "Risk Analyses" tab has also been added on the right-hand side in the Properties field when in fullscreen mode. It shows you details about the respective chances, risks and controls. You can now also decide what additional information should be visible when in fullscreen mode for a process. You can choose between "No icons", "Icons for descriptions and attachments" and "Icons for risks and chances".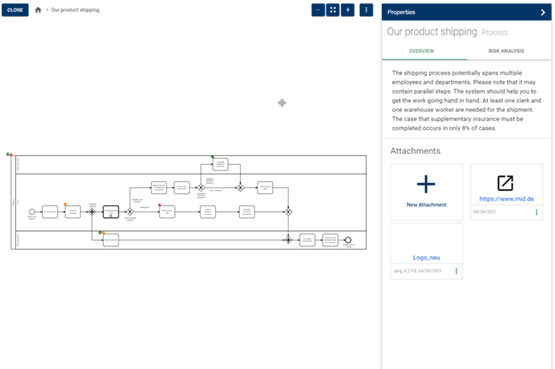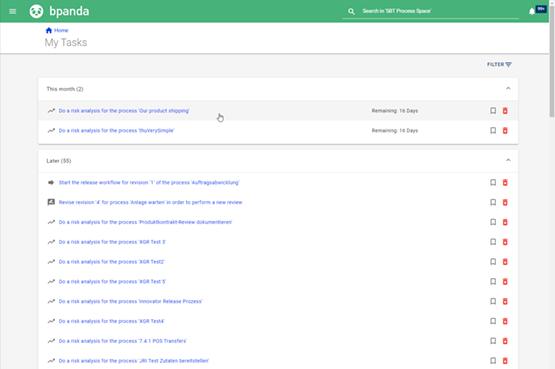 Risk Management: Tasks
The risk manager role has been around for some time in Bpanda. Risk managers are assigned tasks to do with risk analyses in Bpanda. The same also applies for BPM managers, but as of now no longer applies for process owners. Process owners will now no longer be asked to start the risk analyses for the respective process. This task is now the responsibility of the risk and BPM managers in Bpanda.