New Risk Manager Role
Risk management and ICS are most certainly important tasks within your company. This includes maintaining sight of the risks and chances for the entire company as well as global management of both aspects. This is why our July 22nd Bpanda release brings with it an autonomous role for the risk manager. The risk manager has access to the dashboard, which provides a structured overview of all risk analysis within your company. They can also complete current risk analyses and make this information available to everyone who is allowed to view the process.
Only the BPM manager has the same rights as the risk manager. They can assign the role of risk manager within the process space. The BPM manager should therefore appoint a risk manager ASAP and assign them this role in Bpanda. Please note: it is also possible for the BPM manager to have both roles.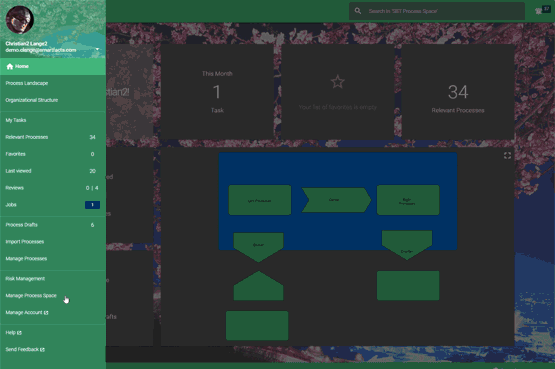 Avoiding Overlapping in the Modeler
We have updated the Modeler so that your modeled processes are always clear and easy to read. You can now also check whether message flows, tasks, data associations etc. are overlapping when you carry out your modeling verification. This setting option is deactivated by default. However, at the very least, we recommend that you set the option of a yellow warning triangle to be shown if overlapping occurs. The BPM manager can activate this setting as they normally would in the Modeler settings. This means you can avoid overlapping directly during modeling and processes can be easily read and understood by all.
New Design for Bpanda E-Mails
Bpanda sends you an e-mail of any unread notifications. These notification e-mails now have a brand new design. You will now also receive direct e-mail notification of any tasks you have been assigned in Bpanda, e.g. job assignment. The e-mail contains a direct link to your notifications and tasks which you can click on to go directly to Bpanda. This means you can now react even quicker to new developments in Bpanda and won't miss a trick.
New Language: Italian
Ciao, come stai? Tutto bene? Bpanda is now available in Italian as a system language. You can now use the Bpanda interface in Italian, as well as the usual German, English and French. Just let us know if there's another language you need! Buona giornata!