NEW: Risk Management with Bpanda
As you already know, we have been busy beavering away on new functions. Our November 19 release is proud to present: Bpanda can now support you and your company with your risk management! This means that you as process owner, process collaborator and BPM manager can start an analysis for every project. You can create and assess risks and chances for the project itself, as well as for individual tasks or lanes. Assessment is carried out using a matrix of occurrence probability and damage extent which then determines the probability. You can then directly create an appropriate control for the risk(s) you recorded. The BPM manager then completes the risk and chance analysis so that it is visible to everyone in the company who may view the respective process. Risk assessment does not need to be carried out for every process. The BPM manager can decide which processes are relevant.
Risk management features are still being tinkered with, so watch this space for more exciting features in the next releases. Please feel free to send any questions or feedback you may have about risk management to our Bpanda team.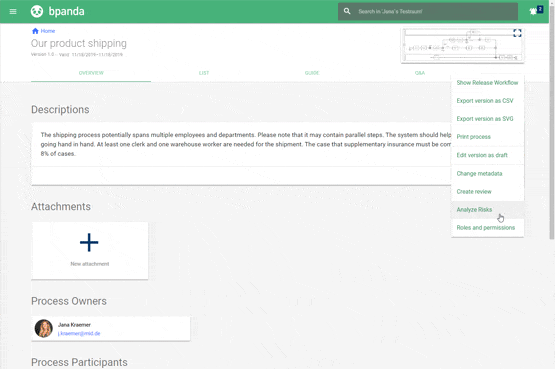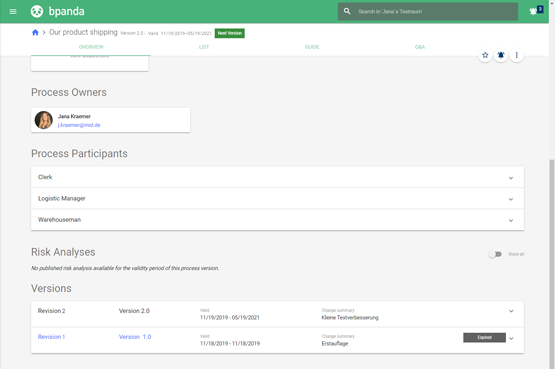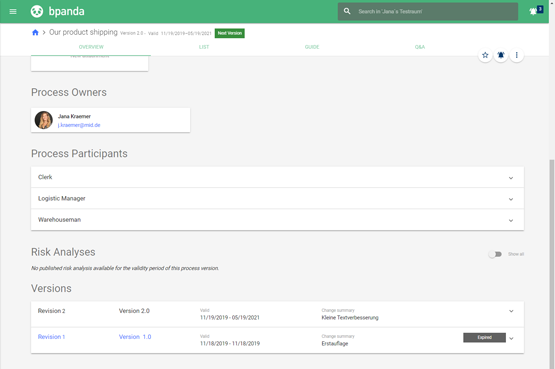 Change of Color for Labels in Processes
Expired process versions are now shown with a gray label instead of a green one, so it is easier recognize process versions in the overview table.
Last Viewed Processes
When you look at your last viewed processes, you will now be able to see both the title and the version. This means you can easily see which process you last viewed and also see explicitly which version of this process it was. The history is now much more detailed.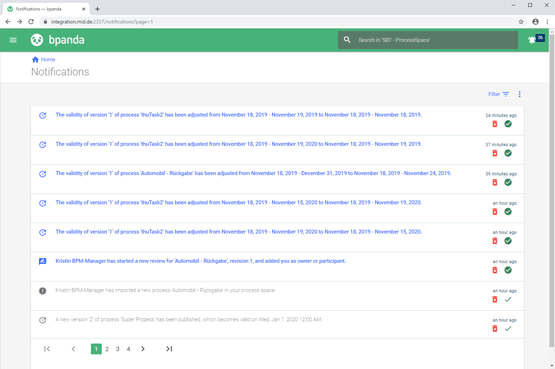 Bug Fixes: Notifications
One of the bug fixes for this release that you will probably notice straight away: If you look at your notifications in full size, click on one of these, for example on page 3, and then want to return to the exact same page of your list of notifications (e.g. page 3), Bpanda will now take you back there. You will no longer be taken back to page 1 and have to click back to the page you were looking at, as was previously the case.
Shortcuts in the Process Map Editor
I am sure that you have already used the process map editor to create your process map directly in Bpanda. This new release brings with it easier creation and editing of process maps, thanks to handy keyboard shortcuts. You can now easily copy (CTRL + C) and paste (CTRL + V) elements. This also applies for grouped elements and text fields. You can also delete selected shapes and text using Del or backspace. You can add your text using ESC. Don't forget that undo (CTRL + Z) and redo (CTRL + Y) also work (23.10.2019 release).