Improved Review Functions
I'm sure you use the review process a lot to release your processes and add important feedback. And if that is the case, then you will definitely enjoy hearing what improvements we have made for all review participants. Our September 17 release now means it's even simpler and clearer to use reviews. You can view the process as a larger view as well as the previous smaller view you are used to when carrying out a review. This is particularly helpful to get a general feel for the entire process for complex processes before submitting feedback. Both process owners and BPM managers will profit from the fact that org units that have already been created and linked with the processes can now be used when selecting review participants. You can select review participants quickly and easily and won't forget anyone.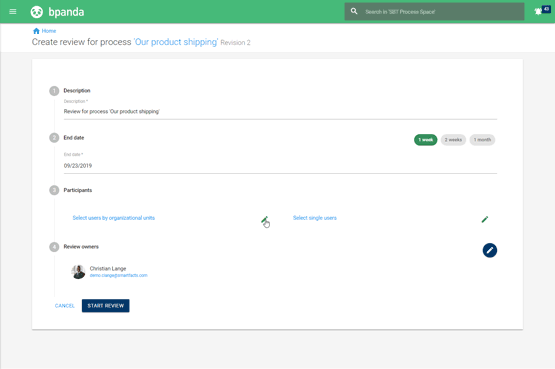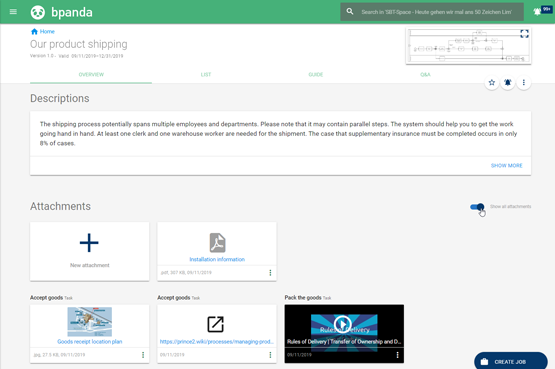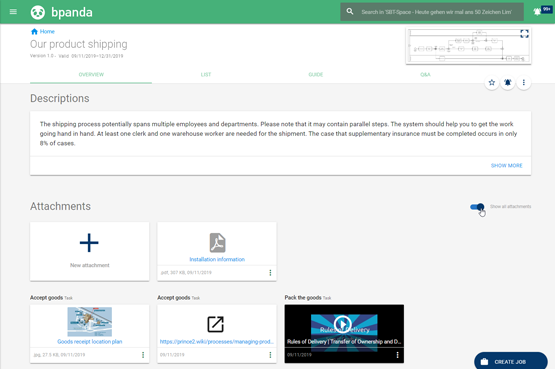 Show All Attachments
Have you got lots of attachments for your processes and individual process steps and want to keep an eye on all of them? No worries! With simply one click Bpanda now shows you all process attachments in one go. This shows you not only the process attachments, but also the attachments that were uploaded for the individual process steps. These are labeled so you can easily find what you are looking for and know which step the attachment belongs to. Process owners and collaborators with appropriate permission can of course edit attachments here too.
Improvements and Things in the Pipeline
We have good news: Bpanda used to have an issue with attachments that contained umlauts. You used to be able to upload them but not open them. We have managed to fix this bug!
Our busy pandas have had a relaxing summer break and are now back hard at work on the next big issue coming your way! You will have to wait on tenterhooks to see what new functions we have been coming up with!