NEW: Bring Your Processes to Life with Jobs
Create a Job
Our brand new feature Jobs is finally here and available to all our Bpanda users with our March 25 release. Bpanda's function Jobs brings your processes to life and lets all those involved within a process to run through the individual tasks and activities in realtime. You can now create jobs for your processes. Anyone who can access the process is able to create a job. A small suitcase icon on your process page or process overview shows you that it is possible to create a job for this process. Clicking on the icon does a quick check as to whether it is possible to create a job. If it is not possible for some reason, then a message appears to notify you. You can recognize this on the process page as there is an exclamation point next to the suitcase.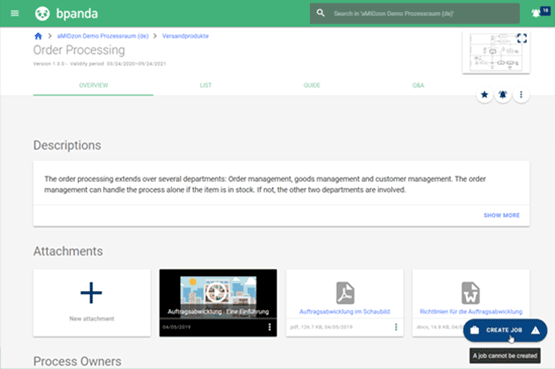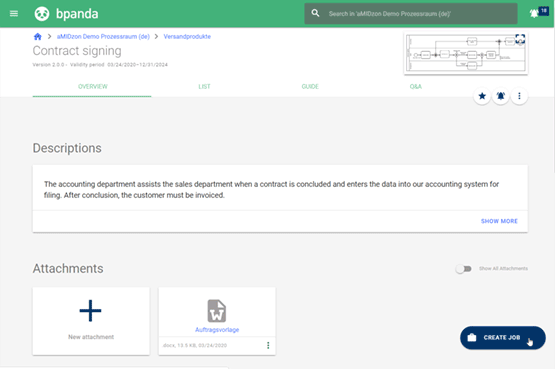 Start a Job
Click on the suitcase icon to start the Job Wizard. You can add a title, deadline and other information to the job here. We will add the process name as the job title for you. It is a good idea to give the job a unique, easy to understand job title so there is no confusion with job evaluation or other similar jobs. Don't worry, you can add any of this information at a later stage too. It is particularly important to set a deadline for time-critical jobs. The jobs with the shortest deadline are shown at the top of the tasks overview.
Complete a Job
People involved in the process can access each job individually and get all information in realtime. Use the activity stream to quickly and easily see what has been done and when since the job started. It contains e.g. chat messages, shared links, information about who started or finished which task and who handed over the job to whom. You can use the respective menu to easy see details about the job, its attachments and the current people in charge. You can also abort the job here.
A process diagram on the right-hand side shows you the current status of the job and its next steps. Tasks associated to the modeled process are shown sequentially here and can be worked through by those involved in the process. All those in charge of a task are sent a notification straight away. When it's your turn, then you just have to open the job and get started on your task. If you notice that a task is missing, then you can simply add it here. It is also possible to omit tasks from the job. The best thing to do is write a short explanation in the stream so that the process can be improved in a new version if necessary. Mark your activity as completed by ticking the task once you have finished it. You can then hand the job over to the next person responsible for it and it will continue to run through.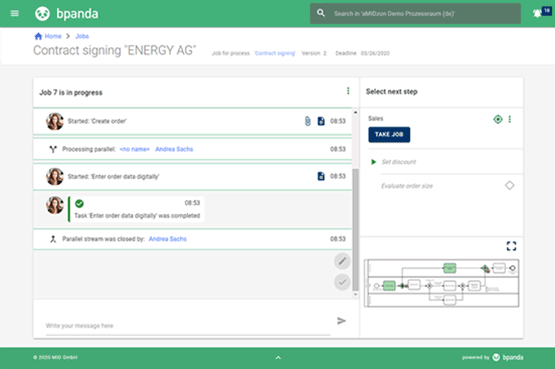 Collaborate on a Job
You can either hand jobs over to certain people or to whole organizational units. You can hand a task over to a colleague within your org unit, i.e. within the lane the task is in. It is also possible for a person within this org unit to actively take the job and start working on it. This is particularly helpful if you know that one of your colleagues is currently ill or there is another reason they cannot perform the task at hand. This means that a process can run through without issues or delays. The same applies for decisions (gateways). If a decision needs to be made (exclusive gateway), then the decision question is shown directly in Jobs and you can choose from the options stored in the process. The job then carries on accordingly. Of course, it is possible to work on a job in parallel as long as the process has a parallel gateway. Call activities are also automatically run through within the job framework.
Got a question or comment for one of your colleagues? No worries! Simply write them a quick message in the activity stream. This means that all information stays in one place that everyone can see.
Overview of Jobs
Bpanda has a variety of ways to keep an eye on your jobs:
You can now find your jobs both under "My Tasks" and on a tile directly on the start page. You can sort your jobs according to deadline. This means you never need forget another job again!
You now have the new "Jobs" menu point in the Bpanda main menu. You can find out information about your current and finished jobs and those of your colleagues in this dashboard. This means you can keep an overview of the various different jobs and can take on your colleagues' jobs in good time if they cannot complete them for any reason.
Clicking on a job takes you to the job overview where all important information is stored in realtime. It contains the activity stream, the next steps and the respective process diagram. You can always easily see the current status of the job here. Steps highlighted in green have already been completed, those with a green border are currently being carried out and those in white haven't been started yet. You can see a small picture of who is currently working on the task.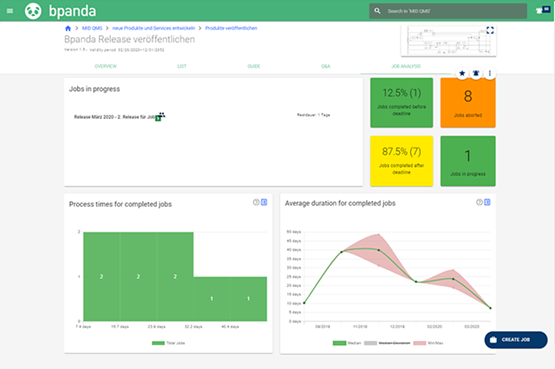 Job Analysis
Process owners now also have a new "Jobs Analysis" tab on the respective process page. This contains evaluations and analysis about running and finished jobs per process. The top area contains lists and key indicators which inform you of how many and which jobs are running, which were completed within the deadline or were aborted. The bottom area contains an evaluation graph with the jobs' actual running times.  Use this data to analyze your processes and keep on improving them!
That's a whole lot of new stuff on offer from our new "Jobs" feature. So get going, bring your processes to life and give us some feedback!