Task Size in Modeler
There has been a little update made to the Modeler this time round. BPM managers now have the option of changing the size of the tasks for the Modeler in the process space settings. Once you have activated this function, then you can define a new default size for tasks. If a task is used in the Modeler, then this task is always given the set size as default. You can then go on to adjust and modify the size of the task when modeling. Simply drag the task at the corner to make it bigger/smaller or higher/flatter. This is only possible if the function is activated in the Modeler settings. This means you can better lay out tasks with longer text.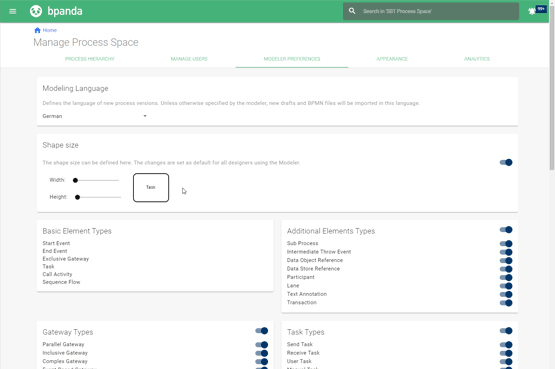 Adopting Excel Tables in the Happy Path Editor
You were previously able to manually enter task names, descriptions and responsibilities individually in the Happy Path Editor; it is now possible to automatically copy&paste content from Excel tables. The editor is made up of three columns, meaning that no more than three columns can be adopted from Excel tables. Make sure you select no more than three columns and their rows in Excel and copy these into the top-most row of the editor using Ctrl+C/Ctrl+V. The selected columns and rows are then automatically pasted in the Happy Path Editor. You can also naturally add single fields or columns in the same way. This saves you a heap of time when documenting processes in Bpanda that are based on documentation created using Excel.
Filter for Risk Management
With the May 14 release of Bpanda comes new filter options for risk management in Bpanda. BPM managers will still be able to see the respective risks and chances in lists when they click on tiles and analyses in the risk management dashboard. They will now also be able to filter these lists. You can also pick-and-mix the filters. This makes it easy for you to keep an overview of your processes, especially those with a lot of existing risks and chances.
You can now also use the new filters with templates. Once you have created at least six templates for risks and chances, then you can search the list of templates using a text filter. This makes it much quicker and easier to find the right template. Once you have selected the template, then you can also tell by a small icon whether the template already contains controls.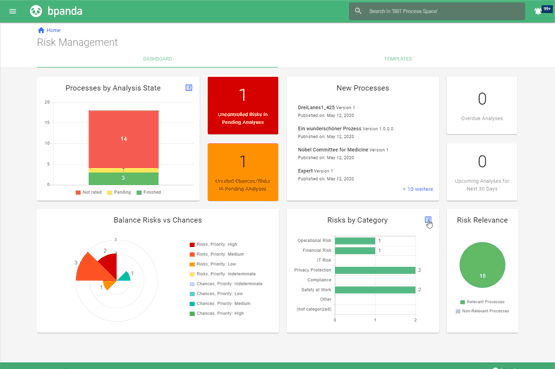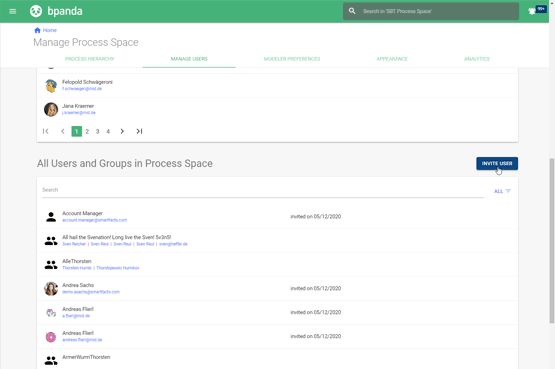 Automatic Invitation for Users to Bpanda
BPM managers assign appropriate licenses to users and then invite them to the process space so they can access Bpanda. This procedure will remain the same, but now you will also have the option of automatically inviting all users which have not been invited yet. Once you have activated this option, then all users who have or who receive a Bpanda license will automatically be invited to Bpanda. This takes the job off your hands of individually inviting every new user. And means no one will slip through your net. New employees will automatically receive access straight away when they are assigned a license and can get going with your process space. Warning: it only makes sense to use this function if your process space already contains processes and the user can actually start working with Bpanda. Please don't hesitate to contact us with any questions you may have about how to best use this function.
Exporting Multi-Lingual Process Maps from Innovator to Bpanda
The release of the new Innovator 14.3 version brings with it language and modeling capabilities for many EU languages, as well as Russian and Turkish. It is also now possible to export multi-lingual process maps and processes from Innovator to Bpanda. You can find more information about new features for Innovator 14.3 here.